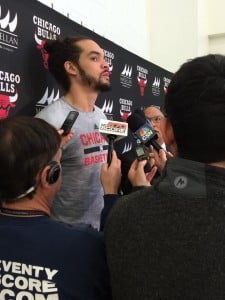 The Chicago Bulls have definitely improved offensively so far this season.
With the addition of Pau Gasol, and departure of the smaller/less effective Carlos Boozer, the team has upped their points per game average from 93.7 to 102.6. Strangely enough, it has been the defense that has struggled at times.
The Bulls (12-8) are allowing an uncharacteristically high 100.5 points per game and have struggled to stay healthy in the first chunk of the season. Joakim Noah is not worried just yet, however.
"We are 20 games in now, and I still believe we can get a lot better." Noah said on Tuesday. "Guys are working hard and I just believe that we will be a lot better."
The Bulls center sat out Tuesday's practice with a knee injury and is not expected to play in Wednesday's game against the Brooklyn Nets. The Bulls have been hampered by injuries in the first few months of the season and have struggled to "gel" on the court.
Luckily for the Bulls, the Brooklyn Nets also have some big man injuries of their own. Brook Lopez is out at least a week with a strained lower back. Lopez is averaging 16.1 points per game along with 6.2 rebounds and 1.7 blocks.
While Noah will most likely miss Tuesday's game, Derrick Rose will play and hopes to break out of his own recent struggles.
Rose scored only 9 points on 2-11 shooting in Saturday night's loss to the Golden State Warriors, and has become reliant on his jumper rather than attacking the rim since his return from injury. Bulls coach Tom Thibodeau is hoping Rose can return to elite status again soon.
"He has to attack," Thibodeau said on Tuesday. "That's the bottom line. Some teams are going under [picks] and some teams will adjust to a blitz. All I know is when he's pushing the ball up the floor and attacking, that's who he is. He can't defer. He can't pace himself. He's got to go. That's the big thing. He's got to go."
The Nets will enter Tuesday's matchup with an 8-11 record and will be missing two of their top scorers in Lopez and guard Joe Johnson (Illness). The Brooklyn Nets could be just what the doctor ordered for a team looking to get back on track.
Click below for audio from Tuesdays practice