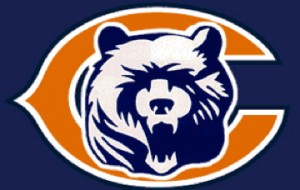 The Chicago Bears will play their fourth preseason game Saturday night against the Kansas City Chiefs, inching closer to the end of their atypical, five-game preseason. With that, we examine where the Bears currently stand and what to watch for heading into the most important game of the preseason.
Takeaways
Matt Nagy's offense is certainly tailored to Mitch Trubisky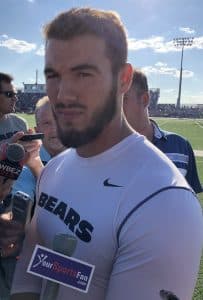 To state the obvious, Matt Nagy was hired as head coach because of his offensive creativity and aggressiveness. Only three games into the preseason, it is clear that he built his offense around the quarterback, Mitch Trubisky. The two have stated their desire to be aggressive, and such was shown right away in Trubisky's first snap of the preseason, a deep ball just overthrown to Kevin White. The offense has been called to Trubisky's strengths so far, selling play-action and using short to intermediate throws for easy completions. Nagy has also incorporated a lot of pre-snap motion for both deception and identifying coverage, making life easier for his quarterback. Staying true to West Coast philosophy, they have found success with quick plays and the screen game. Once the regular season begins, those calls will set up the deep throws that will make the highlight reel. Nagy and Trubisky have played largely without two of their big playmakers, Allen Robinson and Taylor Gabriel, and their swiss army knife Tarik Cohen hasn't been fully unleashed. When Nagy shows all his cards, we'll notice, but it is clear that this offense is designed for Mitch Trubisky to succeed.
Trubisky's comfort level has increased from Cincinnati to Denver
After a poor showing in Cincinnati, the Bears' offense found life in Denver. Trubisky finished nine-for-14 for 90 yards, one touchdown and one interception. He stood tall when facing pressure and navigated the pocket well with generally sound footwork. Never seeming too overwhelmed, he looked particularly impressive on a long touchdown drive where he consistently found the open man to move the chains. His mental errors on a dropped snap for a safety and an interception to end his night shouldn't be ignored, but implementing a brand new offense is a long process for any quarterback. It will take time before Trubisky truly masters the playbook, and there will be mistakes made until then. Much of this season will be about minimizing the growing pains that come with a new offense, but Trubisky being consistently comfortable is a huge first step.
The defensive line has impressed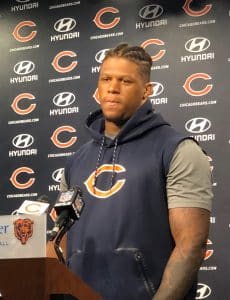 A somewhat overlooked accomplishment on Ryan Pace's resume is his assemblage of a talented and deep defensive line. Akiem Hicks, understandably, hasn't played much this preseason, but Roy Robertson-Harris, a former undrafted free agent, has used improved strength and hand-work to muster three and a half sacks. "[I] did a lot of strength training," he said on Monday. "Trying to get stronger, make sure that I can take on double-teams and things like that." Robertson-Harris has been competing with Jonathan Bullard to play opposite Hicks in their base defense, and Bullard himself has a sack along with six total tackles. Across the board, the Bears' down linemen have been disruptive against the run and the pass. Such success will have to continue in order to open things up on the outside, a spot they are very weak at.
Trey Burton can make a huge impact
Trey Burton was identified as an ascending talent with the tools and traits needed to find success in Nagy's offense. His coming out party came three weeks into the preseason against the Denver Broncos, where he had four receptions for 45 yards and a touchdown. He demonstrated the versatility that is so desired in modern tight ends by working from the slot, in-line and out wide. Both the mental and physical sides of his route-running were on display, specifically on a post pattern he ran directly to the soft spot of the Broncos' zone coverage. Trubisky knew where Burton would be and hit him right out of his break for an easy completion and first down. It was only one play, but it showed Burton's route-running capabilities and hinted at a developing connection between him and Trubisky.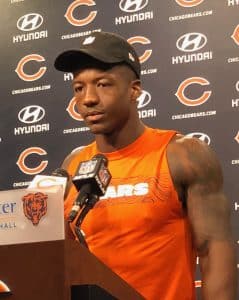 What to watch for against Kansas City on Saturday
How are Taylor Gabriel and Tarik Cohen further incorporated?
Taylor Gabriel and Tarik Cohen have the opportunity to be enormous catalysts for an offense already loaded with playmakers. Both are explosive players that present the potential for a big play when the ball is in their hands. They haven't been featured much this preseason, especially not in the way they likely will be come regular season. It's safe to assume that Nagy has big plans for the two, and Saturday may give a glimpse as to how they are used, as this week is typically known as the "dress rehearsal" game. It may only be for a play or two, but this weekend's game is a perfect opportunity to do something creative with one or both of them.
How much will we see from Allen Robinson?
Allen Robinson was the prize of Pace's free agency this offseason, and for good reason. While his size and deep ball ability make him an obvious "go up and get it" archetype, he too possesses playmaking ability with the ball in his hands. Combined with experience lining up in the slot and out wide, Robinson is a great fit for Nagy's offense. He hasn't seen many preseason snaps as he is still coming off an ACL tear, but Robinson was brought in to be one of Trubisky's go-to guys. How he is used and how much chemistry he has with Trubisky will be a big part of Saturday's game.
How does Trubisky look?
The obligatory "Mitch watch." It's simple: If Mitch Trubisky isn't the quarterback people think he can be, then this offense will not work. It's important not to put too much stock into a preseason game, but how Trubisky does against the Chiefs' starters will be very telling of where he is at. As mentioned, there will be growing pains, and mental lapses are likely. The key when evaluating Trubisky Saturday is to look at how comfortable he is. Does his footwork break down? Is he going through his progressions or is he playing scared? Is he throwing with anticipation? What is his response to his first read not being there? More can be told from this game than any other, and how Trubisky–and the offense as a whole– look against the Chiefs' starters will matter more than anything.
Twitter: @crbevins11 @radiomogul

Hear audio from Matt Nagy, Roy Robertson-Harris, Anthony Miller and Mitch Trubisky,
provided by Steve Leventhal of SRN Broadcasting/SportsAudio.net