This seemed like a better idea than a boring game report, when I started logging the game.  Little did I know what an offensive display it would be, as well as a nightmare for defensive coordinators.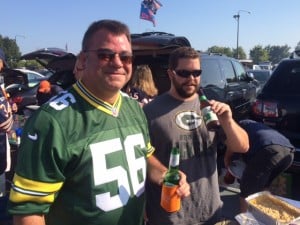 Here's how I spent my day today at the Bears Packers game at Chicago's Soldier Field.
Just like in "24," all these events occurred in real time.
9:15 AM- Left the house for Soldier Field – the over/under for trip downtown is 1:30
10:25- Arrive at Stadium campus, having encountered only a slight amount of  traffic downtown.  It could have been much worse had I left another fifteen minutes later.
10:40- Make my way to the press box after brief stroll through South Lot, observing the tailgaters, and getting hungry from the wonderful smells of burgers, and other tasty items being grilled to perfection.
11:00 – Grab some breakfast at media dining. They served ham and egg casserole. Definitely not on my menu. Fortunately, there were breakfast potatoes and danish available as well.  Not good for counting carbs, though.  That's another reason I cut back on my sports coverage schedule,  too much food to eat, and way too much sitting around.  Next was a quick visit to fellow reporter Les Grobstein, who in turn asked for some help with his website.  If you are a Chicago Sports Fan, check him out at Grobber.com  Although you probably already know him if you are a true Chicag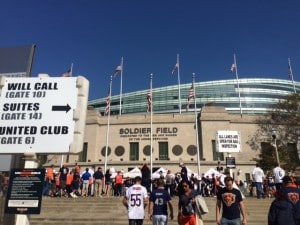 o sports fan.
12:00 noon – Time flies.  Les kept me so busy that I almost missed the kickoff. The stadium is all orange and blue, with sprinkled with a light dusting of yellow clad Packer fans.
12:15 PM – Chicago wastes no time, scoring on it's first drive.
12:24- It takes Green Bay less than ten minutes to respond with a touchdown of their own.
12:35– the first quarter ends as the Bears near another score. There has been no defense in this game. It has the look and feel of an SEC or Pac-12 shootout. Or perhaps a vintage Raiders-Chiefs games from 40 years ago. Two hundred and thirty years of combined total offense in the quarter.
12:42- Chicago settles for a field goal after failing to score from inside the five yard line. That's the first bit of defense so far.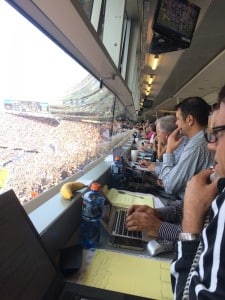 12:52- The Packers have no such problems in the Bears red zone, scoring on their next possession and talking the lead 14-10.
12:55- My colleague David Schuster of WSCR 670 grimaces at one of the many f-bomb laced disparaging remarks that Grobstein continues to make about the Bear's defense. He can't help it, Les is everyman's fan in the pressbox. His biggest kvetch – the Bears using the shotgun formation on third and goal. Lucky for me, Jordan Bernfield of WGN sits between yours truly and the Grobber.
1:04- No punts yet, as Chicago drives 80 yards for another score. Chicago tries an unsuccessful onside kick on the ensuing kickoff. Grobstein actually applauds the attempt, noting that two Bear players had an opportunity to recover the ball. The bigger enemy for the Bears is the game clock which has just over three minutes until halftime. Chicago grabs the lead 17-14, the last time they would lead in this game.
1:16- The offensive deluge continues as Green Bay marches down unimpeded again for another score with 1:03 left in the first half. At this rate, the Bears woes will be compounded by the fact that Green Bay receives the 3rd quarter kickoff. If they continue to hold serve, I'm not sure how the Bears can catch up.  Packers 21, Bears 17.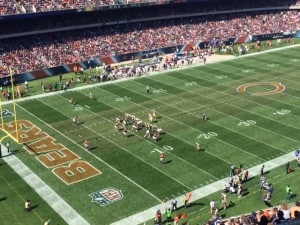 1:25- The half appears to end as Chicago TE Martellus Bennett is stopped short of the end zone, and the Bears out of timeouts. Replays are inconclusive and the ruling on the field stands. No punts and 508 yards of combined total offense.
1:30- Lunch is served in the media dining room, and the reporters queue up. Grilled chicken sandwiches and salad are being served. Alas, something worth devouring. The NFL is one of the last pro leagues to still offer free food in the press box. That comes in handy when you are spending all day at the stadium.
1:50- Green Bay continues to march down the field like Sherman through Atlanta. Only self-inflicted penalties seem to impede their progress, as they settle for a 53-yard Crosby field goal. The way the Bears area playing defense, the Packers could line up Crosby, Stills, and Nash in the backfield and still score. 24-17 Packers.
2:00-The first turnover of the game occurs, when Green Bay intercepts a deflected pass. It takes only for minutes for Aaron Rogers to connect with Jordy Nelson for an 11-yard TD pass. The Packers have scored on all five of their possessions so far. The lead is now 31-17.
2:10- The Bears avert disaster when an Alshon Jeffery fumble lands safely out of bounds. A few plays later, Jay Culter throws his second interception of the day, which is returned 52 yards to the Chicago 11.
2:17- The third quarter ends as the Bears hold back the Packers on third down. They will change sides and attempt a FG on the south end of Soldier Field. The teams are five yardsticks shy of 700 total yards.
2:20- Miscues continue as Chicago gets a holding penalty, and the Packer field goal attempt turns into a first down, They score on a three-yard touchdown grab by Randall Cobb on the ensuing play. Green Bay 38 – Chicago 17.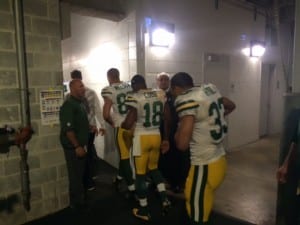 2:35- Cutler throws another apparent interception, but Chicago challenges the play, not realizing any change of possession is reviewed automatically. The play is overruled, and the Bears are penalized a timeout. Later in the same drive, Chicago is forced to go for it on 4th and 5. The incompletion results in a change of possession. Remarkably, there still have been no punts in the game, as GB takes over on their own 41.
2:42- Aaron Rogers eludes would be tacklers on third and long for a 1st and goal completion to Cobb. However, two holding penalties are more effective at slowing the Packers down than the Bear defense. A blocked field goal attempt is the lone defensive highlight so far. It remains 38-17, as Bear fans scurry to find the nearest exit.
2:50- The Bears wave the white flag. It appears the the second stringers are in for Chicago.
3:00- The final score is unchanged as I head for the Packer locker room first, to get some post game sound bytes.
3:10- Julius Peppers commands the media attention as he talks about beating his former team, and a division foe. (see below)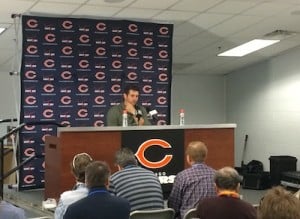 3:20- A quick jaunt over to the Bears side, where there isn't much the players can say.
3:25- A member of the Bears media department announces that Jay Cutler is headed to the podium, so I scurry over the Bears' interview room just in time to catch the end of coach Marc Trestman's comments. Culter follows immediately.
3:40- I decide to return to the pressbox to work some more on this story and let more traffic clear out of the parking lots.
3:50- Grobstein asks for my Peppers audio, so I've got more time to kill while transferring the file to his computer. If you just looked at the offensive stats, you'd think this was a close game. The Bears outgained their foes from the near north 496 yards to 358, and out rushed them 235 to 56. But the number that really mattered was the two key interceptions, both in Green Bay territory, allowing the Packers to shut out Chicago in the second half, despite not having to force a single punt all game. Rogers finished with four touchdown passes.
4:00- time to leave. Let's see how long it takes to return home.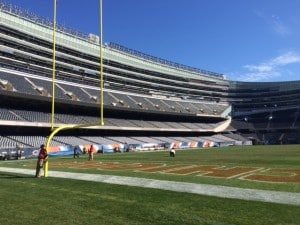 5:40- arrived one hour and twenty-five minutes after motoring out of the parking lot, which still had a surprisingly number of cars continuing to tailgate in the lot. Traffic is still slow getting onto Lake Shore Drive, but speeds up soon enough.  There were the usual taffic jam spots leaving downtown and the Edens Expressway.  But if there were no traffic, I can make that trip in forty-five minutes. Chicago? No traffic? Almost never, although the freeway jams here are nothing compared to Los Angeles.
5:50- Sit down at the keyboard proofread and wrap up this story.
6:50 PM- Finished upload of pictures audio from post game interviews. Hit save and publish.
My stats: 71 mile round trip, two meals, one snack, one game story (with audio and pictures) over nine hours and forty minutes.
Post game audio from Green Bay's Julius Peppers and Chicago QB Jay Culter
[jwplayer mediaid="14256″]