There are plenty of Grateful Dead cover bands. There's no shortage of Pink Floyd tributes. Dead Floyd, however is no novelty act. The music never stopped from what began as a one-off show. Ten years later, the Fort Collins, Colorado-based quartet of Charlie Humphreys (guitar, vocals), Josh Miller (bass, vocals), Stu Crair (drums, vocals), and Matt Goldberg (keys, synth) continue to blend the musical styles of two of the best known bands in psychedelic rock into a single great gig.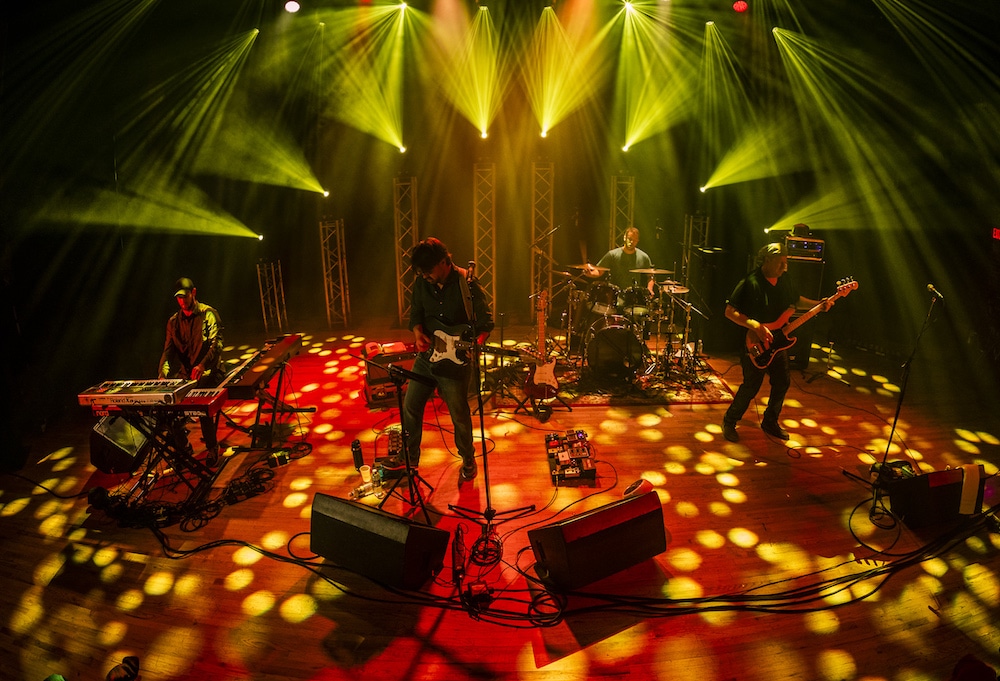 Crair and Humphreys were in a funk band. A huge Grateful Dead fan, Humphreys professed to knowing all the Dead's repertoire. Miller brought his mastery of the Floyd catalogue to the endeavor. Goldberg was an acquaintance of Crair's from when he first arrived in Colorado. Their little experiement played to a packed house of local fans and friends. It went so well, they performed a second, sold out show. The foursome continued to hone their craft, working with the material from both bands, and built a local, then a regional following.
It's been quite a ride. We keep kind of the same mentality of quality shows over quantity. And really trying to make them just fun, and music that everyone loves, including us.

Stu Crair – Dead Floyd
Miller can sing in David Gilmour's voice, while Humphreys handles the Jerry Garcia/Dead vocals, in his unique sound, and from time to time they mesh their voices and harmonize.
How do they choose the set list? "That is part of the fun, really," says Crair. "It is a 'Monsters of Rock show.' You're gonna hear some huge tunes from both bands. We really dig deep into the those catalogues. In terms of how we decide what we're going to play, a lot of it is very last minute. What are we feelin' tonight? We've been doing this for ten years. We know these songs in and out. We really jam out on them and make them our own. They've never heard a lot of this put together like that before. It is very in the moment."
Even more challenging perhaps is how to segue between songs of the two bands, and their slightly different styles. Crair states, "From a musician's standpoint, it's very bluesy based, it's very rock and roll based. It's very psychedelic, and there are some serious opportunities to shift between, in terms of tempo and feel, that just kind of work." He adds, "It's very unrehearsed. We don't practice that much anymore, because we've been playing together for ten years, and we know these songs. We talk ahead of time. That's part of the jam band mystique. We just let it go on stage."
Take for example, a recent show in Boulder. A segment in the middle of the show went like this: "Playing in the Band" into "One Slip" from Floyd's 1987 Momentary Lapse of Reason into "Time" from Dark Side of the Moon. Then two Dead songs, "Stella Blue" and "Not Fade Away," followed by "Empty Spaces" and "Young Lust" from The Wall, before reprising "Playing In The Band."
Catch them on a Midwest swing with stops in Chicago on August 2nd and 4th, 2019, with a St. Louis area gig sandwiched in between. That is followed by shows back in Denver in late August.
For more info, visit them on the web at DeadFloyd.com or Facebook.
And if you're still on the fence, check out the shows they've posted to Archive.org
On The Run, the Long Strange Trip continues…..