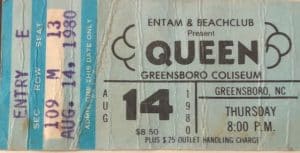 I have been fortunate to go to a lot of rock concerts in my lifetime. Considering what tickets cost today, those old ducats from the seventies and eighties turned out to be pretty good deals. Most of those ticket prices were under twenty bucks. The late seventies concerts were all under ten dollars. Compared to today's prices, those old shows were an absolute bargain. I've seen a lot of artists that are no longer with us, such as Jerry Garcia, Stevie Ray Vaughn, Gregg Allman, Lou Reed, Keith Emerson, Freddie Mercury, BB King, and Jaco Pastorius, the great bass player for Weather Report. Other than completing artists or bands on my bucket list, I'm not too keen anymore to shell out big bucks being charged today. In many cases I'd rather see up and coming artists in small venues, or good cover bands in clubs.
This is compilation of some of the most outstanding performances I've personally witnessed to date. The Fleetwood Mac concert in March 1977 would have been included, but I've written about that show already. That story is linked here, so it was omitted from this list.
James Taylor – Carmichael Auditorium – Chapel Hill – March 3, 1982
This was JT's triumphant return to his hometown. Taylor's father was a professor at the UNC School of Medicine, ultimately becoming the school's dean, Rumors had been circulating for years that Taylor had no desire to perform in the Chapel Hill. Supposedly, the author of "Carolina In Mind" had too many bad memories from his adolescence here, that fueled his depression and subsequent drug addiction. Thus, he avoiding performing in the area. However, he received a hero's welcome, the audience went nuts, and Taylor fed off the vibe. Carmichael was not particularly known for its acoustics, but never sounded better. JT even improvised the lyrics to "You've Got a Friend" to include a reference to local Highway 15-501 that connects Durham and Chapel Hill.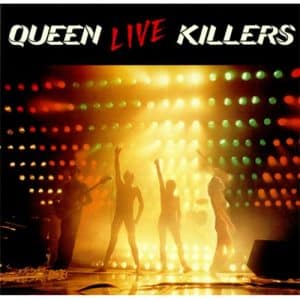 Queen – Greensboro Coliseum – North Carolina – August 14, 1980
At the time, Queen was one of the hottest bands in the world. They were touring in support of their ninth studio album, "The Game" which would top the album charts in both the US and UK. If you've ever seen video from a Queen concert of that period, you see what an incredible performer Freddie Mercury was. He pranced. He danced, he played and sang. We had no idea that he would be gone eleven years later. But that night, he owned the place with an 27-song epic set.
Setlist: Jailhouse Rock, We Will Rock You, Let Me Entertain You, Need Your Loving Tonight, Play the Game, Mustapha, Death on Two Legs (Dedicated to…), Killer Queen, I'm in Love With My Car, Somebody to Love, Get Down Make Love, You're My Best Friend, Save Me, Now I'm Here, Fat Bottomed Girls, Love of My Life, Keep Yourself Alive, Drum & Guitar Solos, Brighton Rock, Crazy Little Thing Called Love, Bohemian Rhapsody, Tie Your Mother Down; Encore: Sheer Heart Attack, We Will Rock You/We Are The Champions, God Save The Queen
R.E.M. – NC Benefit for Africa – Meredith College – May 27, 1985
In the wake of Live Aid, a lot of Africa relief concerts took place. One was organized at a beautiful outdoor amphitheater at Meredith College in Raleigh. The show featured seven or eight popular bands local with R.E.M. as the headliner. They were gracious enough to allow the fledgling UNC Student Television to film their performance, which featured songs from the soon-to-be-released third album "Fables of the Reconstruction." Don Dixon, whose band Arrogance also graced the stage that day, and was a producer on their first two albums, joined the band for "Don't Go Back To Rockville" and a cover of "Wild Thing."
Complete show:
https://youtu.be/y0VrM-qYnkw
Paul Simon – Civic Opera House – Chicago – March 13, 1987
Simon brought his Graceland tour to Chicago's historic, art deco Opera House. Simon, and his band, along with Hugh Masekela, Miriam Makeba, and Ladysmith Black Mambazo played songs from the Grammy award winning album. It was a perfect setting for the acapella music, rhythmic dancing, and solo music by the South African artists. The 3500-seat auditorium may not be small compared to the club scene, but it's far more intimate than the ten thousand plus seat amphitheaters and concert halls favored by rock stars.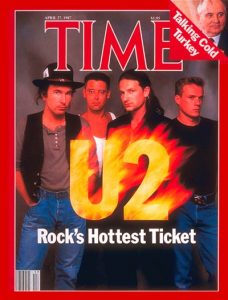 U2 – Rosemont Horizon – Rosemont, IL – April 29, 1987
This was my first U2 concert, having missed another epic show which took place at Kenan Stadium in Chapel Hill four years earlier. The Rosemont show more than made up for it. The band had graced the cover of Time magazine two days earlier with the headline, "Rock's Hottest Ticket," and the show has become synonymous with that epithet. It remains a very popular U2 fan bootleg, which is surprising since the arena is not known for its acoustics. But the band and the audience connected, and the rest is history.
Frank Zappa – Auditorium Theatre – Chicago – March 4, 1988
One of the most underrated musical geniuses of all time brought his satirical Broadway the Hard Way tour to Chicago's palatial Auditorium Theatre. Zappa loved to skewer anything and everything musically. His target this time was the disgraced preacher Jimmy Swaggert. Using a medley of Beatles songs and his lyrics, Zappa proceeded to eviscerate the televangelist in song. In addition, he brought Sting onstage, and they played "Murder by Numbers," a Police song. Even better, he tossed some Zeppelin and Allman Brothers into the mix that magical evening.
https://www.setlist.fm/setlist/frank-zappa/1988/auditorium-theatre-chicago-il-5bd0ef74.html
Neville Brothers – Skyline Stage, Navy Pier – Chicago – May 27, 1989
One of New Orleans' best known musical families kicked off a series of "twilight concerts" at the recently renovated Skyline Ballroom in the summer of 1989. They were on tour to promote their fourth studio album "Yellow Moon." Even though the show was broadcast live on radio station WXRT, it was still a hot ticket. Anyone who was there can attest as to what a great vibe there was in the room. The band dug it also and played beyond their allotted time as the crowd urged them on.
Stevie Ray Vaughn / Jeff Beck – UIC Pavilion – Chicago – October 28, 1989
This was the first of two times I was fortunate enough to see SRV in concert. The second show was his final performance, the night he perished in a tragic helicopter accident. The tour was dubbed "The Fire Meets The Fury." Beck and Vaughn traded opening slots on a 29-date tour. For me this show is as noteworthy for what happened afterwards. On the chance that Vaughn might make a post concert appearance at one of the local blues clubs, something he was known for, my buddy Otis and I went to Kingston Mines. SRV did go to a blues club, but not the Mines. He was spotted at Buddy Guy's southside establishment. However, we did meet Buddy Miles, and and we hung out all night with the former member of Jimi Hendrix's Band of Gypsys and Carlos Santana collaborator.
Here's a video of Beck and Vaughn from the Chicago show
The Grateful Dead – Pine Knob Music Theatre – Clarkston, MI – June 20, 1991
I was lucky enough to see the Dead fifty times between 1985 and Jerry Garcia's last show in July, 1995. As any Deadhead will tell you, no two Grateful Dead shows are alike. The venue, the tour, the year, the people, and the vibe made every performance a unique event. City arena shows were very different than outdoor amphitheaters in remote locations like Alpine Valley, or Pine Knob, forty miles outside of Detroit. What made this particular show memorable for me (and many others) was the song order of the second set, which seemed to go in reverse of a typical second set with "Throwing Stones" as the opening salvo. "All Along the Watchtower" and "Iko-Iko are presented outside of their normal settings, before the lengthy set closes with a reprise of "Throwing Stones" and Buddy Holly's "Not Fade Away," followed by an encore of the fan favorite "Brokedown Palace."
Set 1: Touch of Grey, Greatest Story Ever Told, El Paso, Mexicali Blues > Maggie's Farm, Bird Song
Set 2: Throwing Stones, Iko Iko, All Along The Watchtower, Standing On the Moon, He's Gone > Drums > Space > The Wheel > I Need A Miracle > Walkin' Blues > Throwing Stones > Not Fade Away, E: Brokedown Palace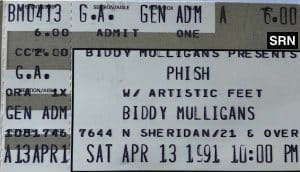 Phish – Biddy Mulligan's – Chicago – April 13, 1991
When the discussion turns to talk about the best band I saw in a small venue, this is my show to brag about. One of my Deadhead friends from New England kept raving about this band from Vermont, so I promised to see their next show in Chicago. Little did I know they'd be packing arenas and amphitheaters for years to come. Biddys was relatively small club on the far north side of town, almost at the Evanston border. From the early seventies until its demise in 2003, the club featured a lot of the local blues greats like Koko Taylor, Muddy Waters, and Buddy Guy, along with national talent like Wishbone Ash, Eric Burdon, and Blues Traveler. I remember seeing Leon Russell there. The posted capacity was 400, and I'm sure there were at least 500 folks that chilly April evening. The place was jam packed, and I was lucky to get a spot near the soundboard. The set was a mix of songs from 1990's "Lawn Boy" and the yet to be released "A Picture of Nectar." Most memorable for me was the inclusion of AC/DC's "Highway to Hell" as the show closer. I haven't attended a Phish concert since, because I'm not sure it could ever surpass that experience.
Yusuf Islam/Cat Stevens – Oriental Theatre – Chicago – September 30, 2016
After a near death experience in 1976, this musical treasure of the late sixties and early seventies converted to Islam, and stopped performing for nearly thirty years. Songs like "Moonshadow," "Peace Train," and "Wild World" were soft rock and FM radio staples. When he finally returned to touring, I put him at the top of my concert bucket list. The time off has kept his remarkable voice nearly intact, and he not only played his hits, but told the stories behind the songs, and delved into his musical catalog for some deep gems. The whole show was his life story, complete with a stage set recreating the small room above his parents restaurant in the London of his youth.
https://www.setlist.fm/setlist/yusuf-islam/2016/oriental-theatre-chicago-il-3bfdcc5c.html
Honorable mentions:
David Byrne – Arie Crown Theatre – Chicago – September 1992
Tom Tom Club – Paradiso – Amsterdam – April 2001
Prince – Super Bowl Halftime Show – Miami – February 2007
Steve Miller Band – Ravinia Festival – July 2009
Brian Wilson – Ravinia Festival – July 2013
Allman Brothers Band – Chicago Theatre – August 2013