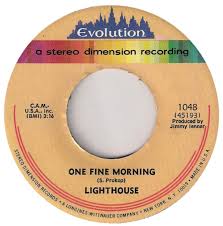 In the late 1960s, a new genre of pop music emerged, the "horn band". Of course far and away the most successful of these was Chicago, followed by Blood, Sweat and Tears and then a number of one-hit wonders. The one-and-doners included The Ides of March, Chase, and today's band, Lighthouse, from Toronto, Canada. But Lighthouse was more than just a horn band, as they incorporated string players as full-time members of the band, predating ELO by a couple of years.
After 3 successful albums in Canada, and not one but 2 nights at the legendary 1970 Isle of Wight festival, they switched record labels and lead singers and recorded their 4th album, One Fine Morning, released in 1971. The title track reached #2 in Canada, #24 in the U.S., and charted across the globe.
With its drums and bass intro, blistering guitar riff, and atmospheric combination of horns and strings, "One Fine Morning" was one of the most unique hits of the early 1970s. When singer Bob McBride says "Yeah, we'll fly-y-y, yeah, we'll fly" over the wall of sound of 11 musicians, you believe him.
Lighthouse cracked the U.S. Top 40 only one more time, with 1972's "Sunny Days", but it quickly faded, while "One Fine Morning" can still be heard on classic rock stations to this day. The original Lighthouse broke up in 1976, a more recent incarnation still tours to this day. As for the band members, you may have heard of the original alto sax player. His name is Howard Shore and he has won 3 Golden Globes, 4 Grammys, and 3 Academy Awards (for the scores to Peter Jackson's Lord of the Rings trilogy).