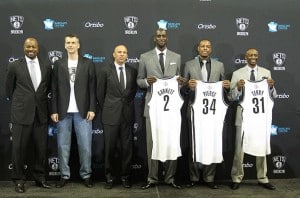 October is upon us, bringing about cool temperatures, pumpkin-infused everything and the start of the NBA season. It seems as if it were just yesterday that Ray Allen was backpedaling into the right corner to bury a game-tying three in Game 6 of the Finals. But since that moment, Miami won its second consecutive title, Doc Rivers departed Boston for sunshine and contention, the Nets went all-in on a talented yet geriatric roster, and Dwight Howard pulled a Dwight Howard.
These happenings and others have left us with dozens of juicy storylines heading into the NBA season. I narrowed the cornucopia of intriguing plotlines down to eleven questions whose answers will shape the NBA season. Here are the first five questions.
1. Can Houston contend in the West?
Houston landed the biggest name in the free agent market by signing center Dwight Howard. Howard will join James Harden and instantly form one of the best frontcourt/backcourt tandems in the league. Harden and Howard form a deadly pick-and-roll duo for the Rockets. Harden"s ball-handling and passing skills are underrated and Howard should once again be a dominant finisher now that his back and shoulder are healthy. Yet, Houston"s ability to make it out of the West may come down to forward Chandler Parsons. Parsons will be called on to space the floor and open up the lane for Howard. He shot 38.5% from three last season, , a solid percentage that is likely to increase in his third season. Parsons may also be called on to play more of a stretch-4 position this season, as Houston lacks these types of players on their roster. Look for Houston to use a crunch-time lineup similar to the Orlando teams Howard played on, surrounding Howard with four shooters that clear the lane for the pick-and-roll.
2. How will Mark Jackson handle his wing rotation in Golden State?
Golden State made some serious noise in the playoffs last year. Despite their success and a promising nucleus, the Warriors decided to shake things up during the offseason by signing Andre Iguodala and choosing not to re-sign Jarret Jack. Iguodala provides Golden State with an athletic wing that defends and is someone who does not need to have the ball in his hands offensively. What will be interesting to watch is how Golden State Coach Mark Jackson balances playing time between Iguodala, Klay Thompson, and Harrison Barnes. Thompson and Barnes had excellent moments during the Warriors playoff run and showed great upside. But Iguodala"s presence seemingly means less minutes for Barnes at small forward. Coach Jackson could choose to insert Barnes at the 4 for stretches of time, but that would force him to take out either David Lee or Andrew Bogut. Taking out Lee would hurt with rebounding and low-post offense, while taking out Bogut would eliminate any shred of defense presence the Warriors would have on the floor. Barnes appears to be the odd-man-out of a crowded wing rotation in Golden State.
3. Can Cleveland make the playoffs?
The Cavs chose to follow standard operating procedure during the offseason: drafting a Canadian first overall, working with a player on switching his shooting hand, and signing a seven-footer whose love for bowling derailed his previous season. Cleveland will be fascinating to watch this season. Kyrie Irving has already established himself as an elite offensive guard, but his defense along with the Cavs" team defense will need drastic improvement. Cleveland ranked 26th in defensive efficiency last season, allowing 106.9 points per 100 possession (Hoopdata.)The Cavs also face challenges in how to juggle their lineup to utilize both Tristan Thompson and Anthony Bennett. Both are "tweeners" who will have difficulty matching up defensively. Moreover, the Cavs will hope to get production from Andrew Bynum. Bynum is unquestionably one of the most talented big men in the league. However, his startling injury history, apparent lack of passion, and disturbing hair styles have greatly tarnished his image across the league. On paper, the Cavaliers have enough talent on their roster to make a run for one of the East"s final playoff spots.
4. Is the Spurs window finally closed?
Up five points with 24 seconds left in Game 6 of the NBA Finals, the Spurs could see the Larry O"Brien Trophy being wheeled out of the tunnel. The Spurs were unable to close out that game in Miami, eventually losing the series to the Heat. Unfortunately, that epic collapse has distorted our view of what was an improbable and sensational Spurs season. In what has seemingly become an annual topic, the Spurs face questions about whether their window of opportunity has closed. The answer to that question will come down to two key factors. First, whether Tim Duncan can continue playing at an elite level. At 37, Duncan averaged 18 points and 10 rebounds last season. If Timmy is the alien I believe him to be, he will put together another quality season with similar numbers. If he shows signs of slowing down or struggles through injury, the Spurs will find it difficult to make it out of the first round of the playoffs.  The second question is whether Kawhi Leonard can build off of his Finals performance and make a Paul George-like jump into NBA stardom. Leonard showed his prowess as a rebounder and defender in the Finals, consistently beating out LeBron James on the boards and slowing him down on offense as much as one mortal can slow down James on offense. If Duncan can continue to turn out all-star level numbers and Leonard can elevate his play to the next level, look for the Spurs to be in contention, as they are every year.
5. What will Danny Granger"s impact be on the Pacers?
The Pacers pushed the Heat to the brink in last season"s Eastern Conference Finals. They did so despite having a bench that was historically inept. Indiana addressed that problem during the offseason, upgrading from DJ Augustin, Tyler Hansbrough and Sam Young to CJ Watson, Luis Scola and Chris Copeland. In addition, the Pacers get forward Danny Granger back from a knee injury that kept him out during the majority of the regular season and all of the playoffs. Granger will likely be reinserted into the starting lineup to begin the season. Not only will this improve Indiana"s starting unit, but the second unit will also benefit as former starter Lance Stephenson will come off the bench. In Granger, the Pacers have a quality defender who has been counted on in the past to lead the team offensively. With Paul George now slated as the number one scoring option, Granger will have to find a way to contribute as a secondary scorer, working off the ball and producing more from catch-and-shoot situations. If Granger is unable to adjust to his new role, the Pacers can use him as a trade-piece in order to acquire more depth and draft picks. Granger is in the final season of his contract and will earn over $14 million this season. Expiring contracts carry high value in trades, so the Pacers will certainly have multiple options if they choose to move Granger.
Part 2 of NBA Storyline-A-Palooza coming later this week.