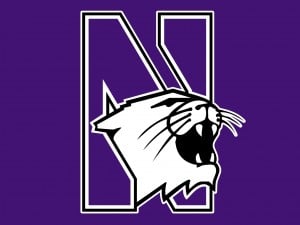 It has been quite the magical season for the Northwestern Wildcats, the only team in a power conference to never make the NCAA Tournament. That run might finally end with the help of a 68-55 win over Indiana at Welsh-Ryan Arena.
In a crowd that had quite the large amount of red to go along with purple at the arena, the Indiana fans went home disappointed as the Hoosiers shot just 32.1% for the entire game and only shot 59% from the Free Throw Line. The Wildcats were not to be outdone despite starting the game down 10-1. But the Wildcats were quick to respond, going on an 18-2 run and outscoring the struggling Hoosiers 34-13 to close the half. The lack of interior defense for Indiana eventually proved to be their downfall, as Northwestern continued to get driving lanes to the rim that allowed for easy shots at the rim.
Indiana struggled outside of Thomas Bryant, who finished the game with 23 points and 12 rebounds.
Northwestern didn't have their best day shooting, just 41.1% from the field, but they managed to outrebound Indiana 41-37 and forced 13 turnovers in the win. Bryant McIntosh lead the way for the Wildcats, scoring 21 points on 7-13 shooting. Sanjay Lumpkin added 14 points of his own and Scottie Lindsey finished with 12 points himself.
The win was Northwestern's eighteenth on the season and their seventh win in the Big 10 this season, moving them ever closer to that elusive first birth in the NCAA tournament. But their chances may take a hit after their 80-59 loss to #23 Purdue Wednesday.
Despite the loss, Northwestern still has a very good of making their first trip to the NCAA Tournament. They currently stand 18-5 and 7-3 in the Big Ten which is projected according to ESPN's bracketology, to have 8 teams in the NCAA tournament, second only to the ACC who is projected to have 10 at the moment. Northwestern is currently 39th in BPI according to bracketology, plenty high enough to get them in the tournament. Very rarely does a team with a BPI higher than 40 miss the tournament.
The road remains tough for Northwestern who's fate will be decided over these coming weeks as they will face opponents like #10 Wisconsin on the road, #17 Maryland, and have a rematch at home vs. #23 Purdue to finish the season. Watching this team's journey towards their first tournament berth will be quite the sight to see.