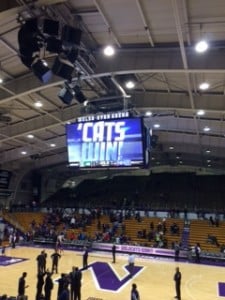 There is an innate sense for a son to perform to the best of his ability when his father is watching from the stands. Whether it is playing basketball or the piano, the emotional boost of having a loved one cheering you on cannot be replicated.
Hopefully the Wildcats head coach Chris Collins didn't use up this phenomenon against Mississippi Valley State Sunday night in Evanston.
Doug Collins, ex-Bulls head coach and father of the aforementioned Chris Collins, sat in section 104 to watch his son's team dominate an undermanned and inferior opponent from the Southwestern Athletic Conference.
The 1 – 7 Devils scored the first basket of the game and those 16 seconds was the only time they had the lead.
The Cats had a comfortable lead throughout the game and were never challenged at either end of the court. MVS's 49 points extends NU's streak of consecutive games of holding their opponent under 70 points to 15, which ties Virginia for the longest streak in the nation.
The blowout win was led by NU's pair of starting freshman, Bryant McIntosh and Vic Law, who combined for 26 points and 8 assist. Law got the crowd to their feet with a monster jam off of a MVS turnover at the 7:58 mark in the first half.
Not to be outdone by the freshman, Jr. Tre Demps added 2 spectacular dunks of his own while compiling 15 points, going 3 – 6 from beyond the arc.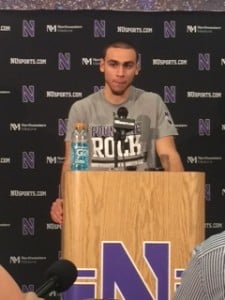 The big man, 7 foot Jr. Alex Olah also got into the action with a solid performance and another double-double. After going down early with an apparent leg injury, Olah was able to pull down 10 rebounds while scoring 17 points in only 20 minutes of work.
Northwestern does not score a 100 points often, the last time was a 100 – 89 victory over Wisconsin on March 6th, 1993. This 52 point win was not the largest margin of victory for the Cats in their history, NU beat the University of Chicago 101 – 45 in 1988.
The game might have been decided early but NU needed a win to snap their 3 game losing streak and build some confidence going into conference play later this month.
If NU's plays this way every time Doug Collins comes to watch his son, Chris might have his father take up residence at Welsh-Ryan Arena.
NU Head Coach Chris Collins talks about the Cats win and building off this game (NU MVS)
@WesEvans24