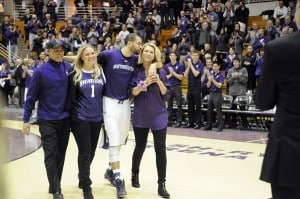 Northwestern wrapped up their 2013-14 home schedule on Thursday evening in disappointing fashion losing to Penn State 59-32 at Welsh Ryan- Arena , the outcome was not what they had hoped for as the Wildcats were ran out of the gym from the opening tip.
Drew Crawford, Nikola Cerina and James Montgomery were all recognized before the game as part of the "Senior Night Ceremony" but even the pumped up crowd there to celebrate could not get the Wildcats (12-18, 5-12) into the game as they would trail 32-15 at the half, after shooting just 6-27 from the field (22%).
Crawford, (who is the Wildcats all time leader in both games played and games started) struggled from the start, finishing with only 6 points in 38 minutes on 2-9 shooting from the field. He exited the game with 74 seconds to play and received a nice ovation from the crowd and his new head coach Chris Collins who couldn't have been more proud.
"I'm sad I only got a chance to coach him for one year," Collins said about Crawford in his post game press conference.
"More than anything, I just said, 'Hold your head high,'" Collins continued. "Because he should. He's one of the great players to play in this program but not even just the way he's played, the way he's carried himself. …  He's the model of what I want this program to be about."
Penn State ( 15-15, 6-11) was led by D.J Newbill who scored 12 points on 5-8 shooting in 30 minutes. Tim Frazier and Brandon Taylor also chipped in 11 points for the Nittany Lions.
Next up for Northwestern will be a road matchup against Purdue and unless they can pull off the victory they will be looking at the number 12 seed in the Big Ten Tournament next week.