I'm Uncle Marty, this is The Award Winning 3D RadioActivity, and on this episode we are being award winning little helpers by playing melodies for Mom.   Mother's Day in the United States is an annual holiday celebrated on the second Sunday in May. It recognizes mothers, motherhood and maternal bonds in general, as well the positive contributions that they make to society. The holiday has been heavily commercialized by advertisers and retailers.  Traditions on this day include churchgoing, the distribution of carnations, family dinners and music!   Although many celebrations world-wide have quite different origins, most have now been influenced by the more recent American idea established by Anna Jarvis, who celebrated it for the first time in 1908, then campaigned to make it an official holiday. Previous attempts at establishing it in the United States sought to promote peace by means of honoring mothers who had lost or were at risk of losing their sons to war.
When Jarvis trademarked the phrases "second Sunday in May" and "Mother's Day", In 1912, and created the Mother's Day International Association, she specifically noted that "Mother's" should "be a singular possessive, for each family to honor their mother, not a plural possessive commemorating all mothers in the world."  This is also the spelling used by U.S. President Woodrow Wilson in the law making official the holiday in the United States, and by various U.S. presidents in their proclamations concerning the occasion.  We are celebrating Mother's Day here with some melodies about and by daughters and every son of Mothers.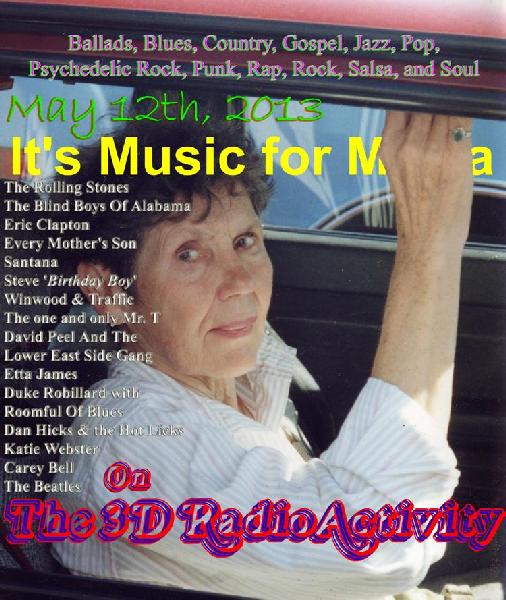 [jwplayer mediaid="9020″]
 We are  on TuneIn.com you can find the program on Groovy Radio, and InternetFM too. Thanks for stopping by this week on the Facebook page, please take a few moments to add some likes to the page and the programs.   I'd like to ask you to tell your friends about our program too.
If you have any ideas for our next shows please be sure to let me know. We are going to the movies next time and will spend Memorial Day listening to musicians who are no longer playing live gigs for us.   Got a few songs to link together for a show theme?  It's easy to send an email by clicking on my name below or message me on Facebook, where you will find links to all the previous podcasts along with the graphics in the "Photo" section.
"It's not true I had nothing on, I had the radio on."
— Marilyn Monroe