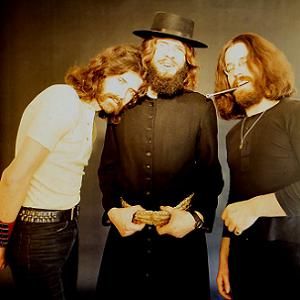 Greetings, rock'n'rollers, and welcome. Today's band hails from Germany, where guitarist Rainer Marz, bassist Gunnar Schäfer and drummer Ringo Funk (gotta be a stage name) formed Jeronimo in 1969. They had their greatest success right off the bat, releasing 2 singles that were hits in Europe, "He Ya" and a cover of Steam's huge hit "Na Na Hey Hey". Their first album release was a pink vinyl oddity called Spirit Orgaszmus, which featured one side by Jeronimo and one by Creedence Clearwater Revival. They next released their first true album, Cosmic Blues, which included all 6 of the tunes from Spirit Orgaszmus.
Today's song comes from their eponymous sophomore effort, 1971's Jeronimo, with Michael Koch replacing Marz. With its machine-like bassline, it will get under your skin and stay there. For years. I even found a YouTube video of a young kid covering it. I dare you to listen to it and not have it circling thru your brain for the next several hours.
They released one more album, 1972's Time Ride, before calling it quits. The original line-up reunited in 2001 to play live, but did not record any new material.