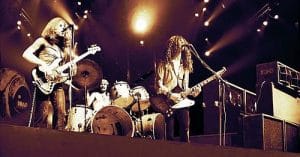 Today we visit Switzerland, a first for this series. In 1970, bassist Werner Fröhlich and drummer Cosimo Lampis left the legendary Krautrock band Brainticket as that group was working on the album that became Cottonwood Hill. In Basel, they joined forces with guitarist Vic Vergeat, who had played briefly with Hawkwind, and vocalist Beni Jaeger. Together with the legendary British producer Martin Birch (Deep Purple, Black Sabbath, Iron Maiden) they recorded their eponymous debut album, which featured the single "Stay", which, in spite of being VERY hard and heavy, did well on the Swiss charts.
By the time they released their second album, Tomorrow Blue (once again produced by Birch), Jaeger had left, with Vergeat and Fröhlich taking over the vocal duties. Today's song, "Vampires" from that album, wanders somewhat aimlessly until about the 1:53 mark, when the chorus is first heard, from that point on, it is sublime. Hard-hitting drumming from Lampis, terrific harmonies from Vergeat and Fröhlich, tasty guitar work, and virtuoso bass playing, all masterfully produced by Birch, produce a song that really should have been a hit on both sides of the Atlantic.
After one more studio album in 1974, the band was reduced to issuing compilations and live albums. They briefly re-grouped in the Nineties, before calling it quits for good in 1995. Skip all that and enjoy the first 2 albums, which still rock today.