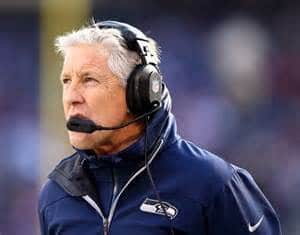 Not all 0 – 2 teams are created equal.
Don't be fooled by your co-workers comments about the Seattle Seahawks being beatable this Sunday because they are winless too. The Seahawks are a better team in every aspect and are hungry for their first win of the season.
Seattle is one of the toughest places to play in the NFL as the Seahawks look to win for the 27th time in 29 home games this Sunday against the depleted Bears. The Seahawks will also welcome the last member of the L.O.B., which will bolster an already stacked defense with Kam Chancellor ending his holdout.
The Seahawks acquired Jimmy Graham in the offseason from the Saints to help Russell Wilson and a no-name receiving core. Many experts expected Graham to have a great season due to the lack of options at the receiver position, but through 2 games Graham has 7 reception for 67 yards and 1 touchdown. Graham was only targeted 2 times against the Packers last week and voiced his displeasure via the media stating that he's "pissed off… He hates what's happening in Seattle."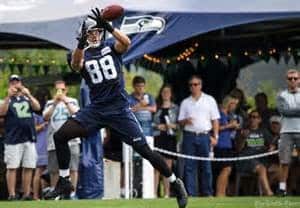 Expect the lack of production to change as the Bears gave up 13 TDs to opposing tight ends in 2014, the 2nd in the NFL. Graham should feast on a Bears defense who has given up 39.5 PPG this year and are not showing signs of turning things around anytime soon.
If you have any other Seahawks on your fantasy team, they should be in your line up, especially if those players are Russell Wilson, Marshawn Lynch or the Seattle defense.
Seattle's defense? Oh yeah… with spaghetti arm Jimmy Clausen leading the charge, expect the Seahawks to be all over the Bears quarterback and force multiple turnovers. If Jay Cutler was taking the snaps the Bears would have been an 8 point underdog but with Clausen, thing will get ugly quickly and the Seahawks won't let up.
A steady dose of Matt Forte and Martellus Bennett in the flat will be the Bears offense this Sunday as a vertical passing game will be virtually obsolete. The Packers back up running back, James Starks, was able to rush for 95 yards on 20 attempts so there are lanes for Forte to exploit if the Bears don't get down by too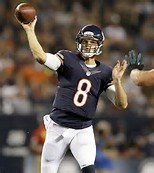 much early.
At least with Cutler behind center, the Bears were a competent football team that might lose by a touchdown but with Clausen running the show, the Bears are the worst team in the NFL.
---
Seahawks Bears Notes & Predictions
Key Matchup: Game vs. a Nap
Key Injuries: QB Jay Cutler (Doubtful), WR Alshon Jeffery (Questionable)
Fact: The Seahawks are tied for second in the league with 36 wins from 2012-14
Fantasy Spotlight: TE Jimmy Graham
Spread: Seahawks -14.5
Prediction: Seahawks 38, Bears 13
---
@WesEvans24