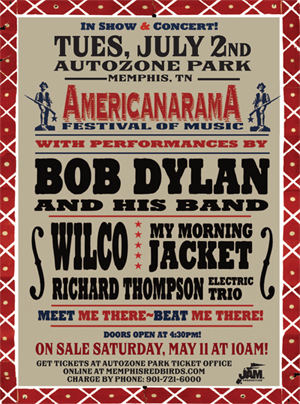 Editor's note: This story originally appeared in July 2013
We live in the day and age of festivals.
For music fans, festivals offer bang for the buck providing the opportunity to see numerous bands that you might not ever get to see otherwise at one time and in one place. For musicians, they open up the possibility of gaining a wider audience, particularly with festivals like the annual Pitchfork Music Festival that will be taking place here in Chicago next weekend.
With a roster consisting of mostly up and coming artists, Pitchfork provides a bonanza for inquiring fans who want to discover music they've never heard before.  However, problems arise when a festival offers a group of well established artists who can fill smaller venues by regularly touring and playing to their fan base. With that in mind, the Americanarama Festival rolled into the Chicago market last night with a made-for-aging-rock-fans bill consisting of Bob Dylan, Wilco, My Morning Jacket and Richard Thompson.
While it was indeed a dream lineup, problems arise when the artists are forced to truncate their normal set lists to fit the schedule, resulting in not enough time afforded to acts that deserve it. Case in point was Richard Thompson's criminally short (30 minute) opening set. Thompson and his Electric Trio consisting of Taras Prodaniuk on bass and Michael Jerome on drums took the stage to a sparse audience, and made the best of his time by performing several tracks from his latest album Electric including "Sally B" and "Stuck On A Treadmill," plus his classic "Tear Stained Letter." And while his set was performed well and well received by those in attendance, an artist of Thompson's stature surely deserves better than a perfunctory 30-minute slot with no encore.
Almost immediately after Thompson exited the stage, My Morning Jacket's set began. Although I've been a fan of My Morning Jacket since their first record, they were the only band on the bill that I'd never seen before. ..and of the four bands tonight, they put on the most satisfying set. Jim James was in fine voice as he caterwauled around the stage, and their 75-minute set included fan favorites like "Circuital," "The Dark" and "Masterplan." But when they launched into "I'm Amazed" and followed it with "Victory Dance" their set really took off, making them the band to beat on this night.
Wilco took the stage next to the enthusiastic cheers of a hometown crowd.  And what a treat it was to see them generously share the stage with the opening acts by bringing Richard Thompson out for a guitar-laden extended version of the Fairport Convention classic "Sloth," as well as the Wilco tracks "That's Not The Issue" and "California Stars." Several tunes later, My Morning Jacket joined them for a stomping version of Neil Young's "Cinnamon Girl."
As usual, Wilco's set started out very subdued and on this night really didn't' begin to catch fire until several songs in with "The Art Of Almost" from their latest album, The Whole Love.  Nels Cline was at his usual manic greatness adding the element of Krautrock feedback to "Misunderstood" and playing an extended lyrical solo during a great version of "Impossible Germany" from Sky Blue Sky.
We also got Wilco classics like "Hummingbird" and "Misunderstood," plus two more songs from their latest album, "Born Alone," and "Dawned On Me," that will probably become stalwarts of their set for years to come. While Wilco's set was immensely enjoyable, by adding the cameos and pairing down their usual two and a half hour stage time to 75 minutes, the flow of their set seemed a little disjointed.
Dylan came out next and was enigmatic as ever as he barked the lyrics to a somewhat bewildered audience. As a result, the crowd began to disperse early his set which is a shame because he was far better than I thought he would be, and let's face it, he's Bob Fucking Dylan!
It's been at least seven years since I've seen Dylan in concert and while it's true his voice is pretty much shredded to pieces, his crack band featuring Tony Garnier (bass), Charlie Sexton (guitar), Stu Kimball (guitar), Donnie Herron (pedal steel) and George Receli (drums) more than compensate. Dylan was animated throughout and stuck to singing, playing the piano and harmonica. Unlike his late 1980s shows where his vocals were an unintelligible jumble, this night found him enunciating the lyrics clearly on such classics as "You Belong To Me," "Tangled Up In Blue," "Simple Twist Of Fate" and today's Song Of The Day, "A Hard Rain's Gonna Fall" (The video shown here from an earlier date of the tour is dark, but provides an idea of how he's singing these days).
Dylan dipped into his latest record several times with credible versions of "Duquesne Whistle," "Early Roman Kings" and "Soon After Midnight," and pretty much focused on late-period classics for the rest of his set including "Love Sick" from Time Out Of Mind, "Beyond Here Lies Nothin'" from Together Through Life, "Thunder On The Mountain" from Modern Times and "High Water (For Charley Patton)" from Love and Theft.
While Dylan has been playing the exact same set on every date of this tour, on this night he changed his encore from "Blowin' In The Wind" to "Ballad Of A Thin Man," sending the faithful who stayed to the end home on a high note.
My Morning Jacket Setlist:
1. The Dark
2. Circuital
3. Magheeta
4. Golden
5. Slow Slow Tune
6. Masterplan
7. I'm Amazed
8. Victory Dance
9. Wordless Chorus
10. Phone Went West
11. One Big Holliday
Wilco Setlist:
1. At the Window, Sad and Lonely
2. When the Roses Bloom Again
3. What Light
4. Misunderstood
5. Poor Places
6. Art of Almost
7. Sloth (with Richard Thompson)
8. California Stars (with Richard Thompson)
9. That's Not the Issue (with Richard Thompson)
10. Hummingbird
11. Impossible Germany
12. Cinnamon Girl (with My Morning Jacket)
13. Born Alone
14. Dawned on Me
Bob Dylan Setlist:
1. Things Have Changed
2. Love Sick
3. High Water (For Charley Patton)
4. Soon after Midnight
5. Early Roman Kings
6. Tangled Up in Blue
7. Duquesne Whistle
8. She Belongs to Me
9. Beyond Here Lies Nothin'
10. A Hard Rain's A-Gonna Fall
11. Blind Willie McTell
12. Simple Twist of Fate
13. Thunder on the Mountain
14. All Along the Watchtower
Encore:
15. Ballad Of A Thin Man