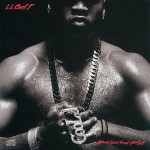 "Don't Call It A Comeback, I been here for years…," so begins the title cut from the 4th album called Mama Said Knock You Out by James Todd Smith…aka Ladies Love Cool J…aka LL Cool J.
And back in the day in my hood, the strains of LL could be heard emanating from booming systems regularly, as a steady stream of beaters passed by while me and my boyz sat on the stoop…OK, maybe this scenario was not the case in my "hood," but if you lived in an urban area circa the late 1980s, this was certainly true.
LL Cool J released his first record in 1984 when he was 16 years old after submitting his tapes to two up-and-coming NYU students named Russell Simmons and Rick Rubin who were running a record label from their dorm. They went on to great fame with their Def Jam Records label empire and as producers to the super stars, including LL Cool J.
By the time of this album's release in 1990, the hip hop pioneer already had three albums under his belt and had a whole host of groundbreaking hip hop hits including "I Can't Live Without My Radio,"  "Rock The Bells," "I'm Bad," "I Need Love," "Bristol Hotel," "Go Cut Creator Go," "Goin' Back To Cali," "I'm That Type Of Guy," "Big Ole Butt" and the original version of "Jinglin' Baby."
The title cut to his fourth album was a reaction to the comparatively weaker sales of his previous release, Walking With A Panther, and the critics' contention that LL had gone soft because of the inclusion of ballads like "I Need Love" on his albums.  The album was produced by Juice Crew member, Marley Marl, who was also the man behind the knobs for classic rap records by Biz Markie, Big Daddy Kane, Roxanne Shante, Kool G Rap and MC Shan, and the album did place LL Cool J back at the forefront of the hip hop music scene.
Today's Song Of The Day was one of six singles released from the Mama album. "Around The Way Girl" samples The Mary Jane Girls' single "All Night Long" and features such verbal gymnastics as "I want a girl with extensions in her hair, Bamboo earrings, At least two pair, A Fendi bag and a bad attitude, That's all I need to get me in a good mood… She sweet as brown sugar with the candied yams, Honey coated complexion using Camay, Lets hear it for the girl she's from around the way…" The lyrics highlight what separated LL from all the rest of the pack back in the day, his attention to details  — bamboo earrings, Fendi bags, honey coated complexion, using Camay — making the characters in his songs come alive.
"The Boomin' System" was the first single released from the album and it reached number 48 on the Billboard charts. It perfectly encapsulates the feeling of standing on the sidewalk as cars drive by with their stereo systems a-blast. Such was the sound of urban America circa the early 1990s. As in many of the songs from the album, its samples included elements from James Brown catalog including elements of "The Payback" and "Funky Drummer." The single also included a sample from "Bring The Noise" by Def Jam label mates Public Enemy.
The album's title cut was part statement of purpose and part shameless boast that charted at number 17 and won LL a 1992 Grammy Award for Best Rap Solo Performance. The track's popularity was benefitted by a landmark full band performance on the TV show MTV Unplugged and was also memorably parodied by the Wayans brothers as "Mama's Gonna Kick Me Out" on their TV show In Living Color.  Samples on the track include elements of James Brown's "Funky Drummer," Sly & The Family Stone's "Trip to Your Heart" and "Sing a Simple Song," Digital Underground's "Humpty Dance" and LL Cool J's own "Rock the Bells."
Another single from the album was "To Da Break Of Dawn" which was featured in the Kid'n'Play movie House Party. In the song, LL disses his detractor's including Ice T., MC Hammer and Kool Moe Dee. Dee responded by releasing the single "Death Blow" from his Funke Funke Wisdom album the following year. "Dawn" also includes a sample of James Brown's "Funky President."
Other highlights on the album include the songs "Eat 'em Up, L Chill" (that includes memorable samples from George Clinton's "Atomic Dog" and the Five Stairsteps' "Don't Change Your Love"), "Mr. Good Bar" (with samples from James Brown's "Get Up, Get Into It, Get Involved" and ESG's "UFO") and "6 Minutes of Pleasure" (that includes samples from James Brown's "Funky President" and Doug E. Fresh's "The Show").
LL's TV credits include his own ill-fated 1995 sitcom In The House, plus appearances in the TV series House, 30 Rock and Sesame Street. But he is perhaps best known as Special Agent Sam Hanna whom he has portrayed since 2009 in the series NCIS: Los Angeles. His film credits include appearances in Krush Groove, Toys (with Robin Williams), Halloween H2O, Deep Blue Sea, In Too Deep, Rollerball, Any Given Sunday, Deliver Us from Eva, Mindhunters, and S.W.A.T..
LL continues to record and he recently released his 13th album Authentic last month to positive reviews.