Three groups…three decades… three stories…one song!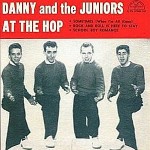 1950s: Philadelphia school friends Danny Rapp, Dave White, Frank Maffei and Joe Terranova formed a group called The Juvenairs in 1957.  They were discovered at a Record Hop by John Madara who changed their name to Danny & The Juniors and introduced them to local record label owner Artie Singer. Madara and Singer liked Dave White's song "Do The Bop," but suggested that the title be changed to "At The Hop." They also took a writing credit on the song for their efforts. The song was released in late 1957 on Singer's Singular Record label.
Singer brought the song to Dick Clark whose American Bandstand was a local Philadelphia TV show. Clark liked the song and added the group as a last minute booking after Little Anthony & The Imperials canceled their appearance on the show. Clark also took 50% of the publishing proceeds of the song in order to get it played on the radio. Such was the way the rock 'n' roll game was played back in the days before payola was illegal. The song topped the charts for seven weeks and became the biggest single of 1958.

1960s: Sha Na Na was a 1950s revival group that hailed from Columbia University in New York City. By a stroke of luck, they were booked to perform at the Woodstock Music & Arts Fair in Bethel, New York in August of 1969 by festival producer Michael Lang who saw them perform in a small club. They appeared at the festival on Monday morning after most people already left the grounds and came on right before Jimi Hendrix's landmark closing set. Their blazing performance of "At The Hop" was included in the Woodstock film bringing them national attention. While their music was totally out of step with the times, they managed to cause a sensation with their greased back hair, gold lame suits and in-synch dance routines. The group went on to record numerous albums for Buddah Records, host their own variety show on TV and appear in the film version of the musical Grease.

1970s: Flash Cadillac & The Continental Kids formed at the University Of Colorado in 1969 to play frat parties. After appearing on American Bandstand, they were offered the opportunity to perform today's Song Of The Day as "Herbie & The Heartbeats" in the 1973 movie American Graffiti. (They also performed "She's So Fine" and "Louie Louie" in the film.) They went on to score two chart hits in the 1970s and appeared on the TV show Happy Days, and in the 1979 movie Apocalypse Now. While many of the original members of the group have since past away, a version of Flash Cadillac still regularly plays gigs today.