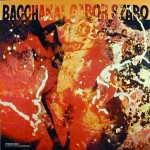 Yesterday, I wrote about the Lena Horne/Gabor Szabo album Lena & Gabor. In doing so, I listened to that album, plus records by Lena Horne and Gabor Szabo while researching the piece.  As a result, I decided to feature one of Szabo's great albums today, and to reuse some of the information that I used in yesterday's post.
Gabor Szabo was one of the few guitarists whose stands comfortably beside Jerry Garcia when it comes to guitar sound, technique and improvisatory style. His use of Indian and Middle Eastern scales had a profound influence on the likes of John McLaughlin, Carlos Santana, Robbie Krieger of The Doors and Larry Coryell. In fact, he composed and originally recorded the song "Gypsy Queen," that Santana took to the charts in 1970.
Szabo was born in Hungary and came to America to study at the Berklee School Of Music in Boston. He played guitar with the Chico Hamilton Quartet between 1961 and 1965, before recording a series of classic jazz albums for Impulse that melded his modal psychedelic guitar style with eastern influences on choice covers of contemporary hits. His 1966 Impulse album Sorcerer is one of the seminal jazz guitar recordings of the 1960s. Concurrent with his recording career, Szabo launched his own record label and also toured and played as a member of Lena Horne's live performance band.
Szabo left Impulse Records in 1968 to form his own Skye Records label along with vibist Cal Tjader and composer/arranger Gary McFarland in 1968. The label was set up to feature recordings by its principals, and other artists who interested them. In the two years the label was active, they released 21 records, including albums by Lena Horne, Ruth Brown, Grady Tate, Chuck Rainey and Airto.
Szabo's first release for the label was the album Bacchanal. The album was recorded at Western Recording Studios in Los Angeles in February of 1969 and included a band comprised of drummer Jim Keltner, classically trained guitarist Jim Stewart, bassist Louis Kabok, and percussionist Hal Gordon.
Szabo's trademark fluid style of jazz-raga jamming is in full bloom on the Donovan tunes "The King Fisher Blues" and "Sunshine Superman," as well as a lyrically beautiful reading of the "Theme from Valley Of The Dolls." The album also includes funky Eastern-tinged takes of Lee Hazelwood's "Some Velvet Morning," Paul Mauriat's "Love Is Blue" and Bacharach and David's "The Look Of Love." Rounding off the set are two psychedelic originals "Divided City" and today's Song Of The Day and the album's title track, "Bacchanal."