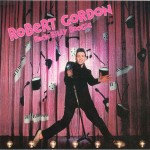 Robert Gordon was born at the wrong time. Right from the beginning, all Robert Gordon ever wanted was to be a 1950s rock 'n' roll star like his idols Elvis Presley, Gene Vincent and Carl Perkins. The only problem was that by the time he rose to prominence, the 1950s were nearly thirty years gone.
Growing up in Washington DC during the 1960s, Gordon became enamored of '50s Rockabilly music which was totally out of step with the British Invasion and later, the psychedelic rock his peers were into. His performance career began in high school where he played the lead role of Tony in the musical West Side Story, and at the age of 17 in 1964, he made his recording debut with a local band called The Confidentials.
By the dawn of the 1970s, Gordon relocated to NYC and became a member of the punk band Tuff Darts, which was one of the first punk bands to develop a following at CBGB. He was a member of the band for the popular Live At CBGB album compilation, but left the group before they recorded their full-length debut album.
His association with Tuff Darts led him to record producer Richard Gottehrer who co-wrote the hits "Hang On Sloopy," "My Boyfriend's Back" and "I Want Candy." Gottehrer was also an original member of The Strangeloves and a co-founder of Sire Records (with Seymour Stein). He also went on to produce seminal albums by Blondie, Marshall Crenshaw, The Go-Go's, Richard Hell & The Voidoids and Joan Armatrading.
Gottehrer teamed Gordon up with rockabilly legend Link Wray to cut his debut album on Private Stock Records called Robert Gordon with Link Wray. The record came out a few weeks before Elvis Presley's death in 1977, and as a result began to sell in large numbers (as did its single "Red Hot") as the media began turning its attention to Elvis and his era in the wake of his death.
A second Private Stock record called Fresh Fish Special followed in 1978 (featuring Elvis Presley's backing vocalists The Jordanaires), and was notable for the first appearance of the Bruce Springsteen song "Fire." Springsteen had originally written the song during the sessions for Darkness On The Edge Of Town. He wrote the song after seeing Elvis Presley perform, but ended up giving it to Gordon after Presley's death. Springsteen also plays piano on the track. The following year, The Pointer Sisters would take their version of the song to the number two position of the charts.
Gordon signed with Elvis Presley's label, RCA records in 1979 after Private Stock went under, and released his most consistent record, Rock Billy Boogie featuring Chris Spedding on guitar in place of Link Wray. The album contains today's Song Of The Day which was originally recorded in 1958 by Joe Bennett and the Sparkletones, along with rockabilly covers like "Rock Billy Boogie" (Johnny Burnett Trio), "All By Myself" (Fats Domino), "It's Only Make Believe" (Conway Twitty), "Blue Christmas" (Elvis Presley), plus a few Gordon originals.
Gordon's band on the album included Chris Spedding on lead guitar, Rob Stoner on bass, Howie Wyeth on drums and Scotty Turner on rhythm guitar. Both Stoner and Wyeth were members of Bob Dylan's Rolling Thunder Review band.
Gordon recorded two more albums for RCA including Bad Boy in 1980 and Are You Gonna Be The One in 1981, which included his hit version of Marshall Crenshaw's "Someday Someway." He has recorded sporadically since the early 1980s releasing the albums All For The Love Of Rock 'n' Roll (1994), Robert Gordon in 1997, Satisfied Mind (2004), and a reunion album with Chris Spedding in 2007 called It's Now Or Never.