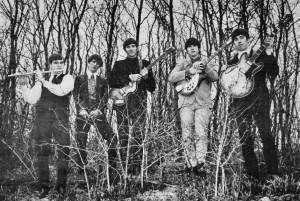 The Munx was a true one hit wonder from the late '60s…but oh what a hit it was! The group was comprised of Robert Bensick, Phil Miller Bernie Neuber, Tom Smith, and Dave Earney. They recorded two local singles for the tiny Clevetown Records label in 1967. With perfect close harmonies and ornate arrangements, the Cleveland Ohio foursome found themselves on the charts in 1967 with this record. The chart action was such that it was picked up nationally by Jubilee Records where a follow up single was cut and released to no action.
Munx founder Bensick was a member of such legendary Cleveland bands The Bridge and Sheffield Rush, sharing bills with the likes of the Velvet Underground, the MC5, Blood Sweat & Tears, and the Amboy Dukes. Returning to school in 1970, Bensick became a star art student at Cleveland State University and formed the experimental group Hy Maya with future Pere Ubu/Red Crayola synthesizer player Allen Ravenstine. Hy Maya's influence upon the Cleveland underground scene would continue to be felt for many years and was instrumental in the formation of Pere Ubu and well as Bensick's own later synth-based groups Berlin West and Zara.
In the Summer of 1975,  Bensick brought together some of the best of the Cleveland underground musicians and recorded an album at Agency Recording. This veritable lineup of local all-stars included Tom Herman (Pere Ubu), Scott Krauss (Pere Ubu/ Cinderella Backstreet/Home & Garden), Cynthia Black (Cinderella Backstreet/Peter & The Wolves), Albert Dennis (Cinderella Back- street/Wolves), and Michael Hronek (a collaborator of Cleveland proto-punk legend Peter Laughner).
The goal was to bring music and art together into a brand new experience. The end result – French Pictures In London – was so far ahead of its time that it remained unreleased for forty years, languishing in the vault of a noted Hollywood soundtrack composer and sound designer, until recently.
The album's sound and mood is also a precursor to the New Romantic movement of groups such as Visage and Spandau Ballet as well as the direction Roxy Music would take on albums such as 1979's Manifesto.
French Pictures In London was recorded with the promise of a record contract with A&M (not as strange as it may seem since A&M also signed John Cale, Magma, Yellow Magic Orchestra, and the Sex Pistols at various times) and the hope for a national tour to follow. Though neither ultimately happened, Bensick turned to his old friend Eric Carmen, formerly the leader of Raspberries and about to release his debut solo album on Arista, for help. Eventually, the album ended up in the hands of Alan Howarth (later an Academy Award-winning sound effects creator, sound designer, and soundtrack composer) where thankfully it remained, turning out to be one of the two surviving copies of something Bensick thought he had lost forever.
The album is finally expected to see the light of day in June 2016.
Here is track, "Lilly White," only available on YouTube at present.