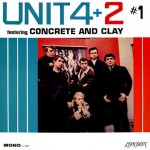 Today's Song Of The Day is a somewhat forgotten British Invasion classic from 1965, featuring future members of The Kinks and Argent amongst its band members.
Unit 4 was a British harmony vocal group that was started in the early 1960s by Brian Parker who was a member of British star, Adam Faith's backing band The Roulettes. Parker set out to form his own band and recruited Buster Meikle on vocals and guitar, Tommy Moeller on vocals and piano and Peter Moules on bass. Soon thereafter, they added two more members, Rod Garwood (bass) and Hugh Halliday (drums) who became the "+2" of their namesake. Their first British single was "The Green Fields" which was a top 50 hit in 1964.
By 1965, they were joined by two guest musicians, Bob Henrit who later went on to become a member of The Kinks and Russ Ballard who was a founding member of Argent. Both had worked with Parker and were also members of The Roulettes. Henrit and Ballard later joined Unit 4 + 2 as full members in 1967.
Their 1965 single, "Concrete And Clay" topped the British charts due to its inclusion on pirate radio playlists. In America, Unit 4 + 2's version of the song competed on the charts with a rival version recorded by singer and Bob Crewe protégé Eddie Rambeau. Rambeau's version climbed to number 35 on the charts, while Unit 4 + 2's made it up to number 28. Both recordings kind of cancelled each other out, so neither was able to attain the attention that it should have.
A full length album was rush-recorded and released to capitalize on the success of the single in England, but the material was lacking and attempts to find a suitable follow up single failed to catch fire on the charts. As time went on, the band delved into psychedelic music as they strived to keep up with the ever changing times. During the late 60s, the group with Henrit and Ballard now full members recorded a version of Bob Dylan's "You Ain't Going Nowhere" that failed to compete well with the more successful version by The Byrds.
All in all, Unit 4 + 2 released 16 singles and two albums in England between 1964 and 1969, however in the U.S., they are barely remembered for this one great track, which to my ears sounds like a prequel to today's faux folk groups like Mumford And Sons and The Lumineers.