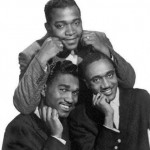 Shep & The Limelites consisted of James "Shep" Sheppard, Clarence Bassett and Charles Bakersfield. They formed in Queens, New York in 1960 and are primarily remembered for their signature hit "Daddy's Home."
Sheppard was originally a member of a group called The Heartbeats that signed with the Hull record label in the late 1950s. The group scored several minor hits on Hull including "Your Way," Baby Don't Go" and "A Thousand Miles Away." It was while a member of The Heartbeats that Sheppard co-wrote and recorded an early version of today's Song Of The Day as their last single on Hull.
The Heartbeats met the demise of so many groups of the day and called it quits in 1959 after being ripped off by managers and not paid for their shows by promoters.
Two years later, Sheppard formed The Limelites with Bassett and Bakersfield and were once again signed by Hull Records. Their first single as The Limelites was "Daddy's Home," which soared all the way to the number two position on the charts in 1961 and was covered by the likes of PJ Proby, Jermaine Jackson, Toots & The Maytals and Cliff Richard. The group scored several other hits including "What Did Daddy Do," "Ready For Your Love" and "Our Anniversary."
The group continued until 1966 before breaking up. Sheppard was found shot to death in his car on the Long Island Expressway in January of 1970. He had just reformed The Limelites and was beginning to tour the rock and roll revival circuit.