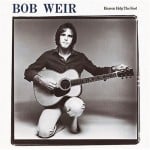 I love the Grateful Dead, but I've never been a huge fan of Bob Weir. That might seem strange to say, since Weir was responsible for some of The Dead's best-loved classics including "Estimated Prophet," "Black Throated Wind," "Jack Straw," "Playing In The Band," "Greatest Story Ever Told," "Cassidy," "Sugar Magnolia," "The Music Never Stopped" and even a late-period entry like "Hell In A Bucket."  More than that, Weir brought balance to the sound of the band, supplying the necessary ying to Jerry Garcia's far superior yang.
While I truly like the above list of Weir songs, he was also responsible for some of The Grateful Dead's lamest material, like the dreadful "Throwing Stones," "Victim Or The Crime," "Lazy Lightning," "Looks Like Rain," "Weather Report Suite," "Lost Sailor/Saint Of Circumstance," "I Need A Miracle" and "Picasso Moon." On top of that, it is also hard to forgive his many years of over-singing, especially at the ending of songs in concert.
As far as his choices of covers go, Weir mostly got it right by introducing songs like "El Paso," "Me & My Uncle," "Me And Bobby McGee," "When I Paint My Masterpiece," "Mama Tried" and "Dark Hollow" into the Dead's arsenal, however, you can also hold him accountable for many years' worth of uniformly horrible version of "Little Red Rooster," "Desolation Row,"  "Good Lovin'," and "Wang Dang Doodle" as well.
Weir's first solo album Ace from 1972 was basically a full-blown Grateful Dead record and introduced many of his finest tunes into the Dead's repertoire. His second solo record, Heaven Help The Fool was released in 1978 during a break in Grateful Dead activity while drummer Mickey Hart recovered from a car accident. The record was produced by Keith Olsen, who also produced Grateful Dead's Terrapin Station album the previous year, and many of the same flaws appear on both records: slick and soulless production and song arrangements that ultimately hamper much of the top material within.
A bevy of top-shelf session musicians participated in the recording of the album, including Waddy Wachtel on guitar, David Foster on keyboards, Bill Champlin (from Sons Of Champlin) on keyboards, Mike Porcaro on bass and David Paich on keyboards (both from the band Toto), Tom Scott from The L.A. Express on woodwinds and former Elton John sidemen Nigel Olsson on drums and Dee Murray on bass, however their performances come off somewhat flawed by the many questionable production choices made by Weir and Olsen.
It's a shame too, because if you can get past the bad disco of "Wrong Way Feelin'," the synth-laden faux reggae of Smokey Robinson's "I'll Be Doggone," and the generic background vocals on almost everything else, you'll find a clutch of worthy tunes written by Weir and his longtime writing partner John Barlow that are well worth your consideration, especially the album's sturdy title track, "Bombs Away" and "Salt Lake City" (which subsequently made it into the Dead's repertoire).
Today's Song Of The Day was written by Lowell George and originally appeared on Little Feat's 1972 album Sailin' Shoes. Lowell George would hop aboard the Grateful Dead bandwagon to produce their next studio album Shakedown Street in 1979.
Ever since Jerry Garcia left this mortal coil, Weir has become the de facto leader of The Dead leaving his excruciatingly awful imprint all over their doings.  It just goes to show that sometimes it's better for bands to pack it in and rest on their laurels rather than tarnishing their good reputation by staying on the road long after their mojo has left the building.