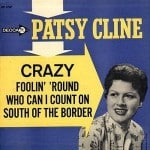 I wrote about this song no more than a month ago when Bakersfield, the Buck Owens tribute album by Vince Gill and Paul Franklin came out. However while barbecuing earlier this evening; I revisited the wonderful recordings of Patsy Cline. When her version of this Buck Owens classic came on, I knew I wanted to share Cline's soulful version as well.
I can name only two, maybe three singers ever that could do Patsy Cline as well as Patsy Cline. I suppose this is a testament to how rare it is that a voice so pure and emotive comes along. Certainly k.d. lang instantly comes to mind, but to me, so do Linda Ronstadt and Karen Carpenter when it comes to the emotional depth and pure vocal tone it takes to even come close to Cline.
Buck Owens co-wrote today's Song Of The Day with Harlan Howard and scored a #2 hit with it in 1961. Patsy Cline covered the Bakersfield classic while recuperating from her near-fatal car accident in 1961 and released it on her Patsy Cline Showcase album, and also on the four song Crazy ep in 1962.
For those interested, Cline's studio band included Harold Bradley on 6-string electric bass, producer Owen Bradley on organ, Floyd Cramer on piano, Buddy Harman on drums, Walter Haynes on steel guitar, Randy Hughes on acoustic guitar, The Jordanaires on background vocals, Grady Martin on electric guitar, Bob Moore on acoustic bass and Hargus "Pig" Robbins on piano. This is the same aggregation of musicians who played on hundreds of country hits during the early 1960s.