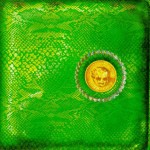 Some records just keep on getting better with time.
Alice Cooper's 1973 album Billion Dollar Babies is certainly one such record with songs like "Elected," the title cut (featuring a guest vocal from Donovan), "Sick Things," "No More Mr. Nice Guy," "Unfinished Suite" and today's Song Of The Day.
And back in the day, the packaging of a record was just as important as what was pressed onto the plastic. This one was originally packaged like an alligator skin wallet complete with photos, a bill fold and an oversized billion dollar bill.  "In Alice We Trust," indeed…
Alice Cooper originally started out as a band featuring singer Vincent Furnier along with Michael Bruce, Glen Buxton and Dennis Dunaway, until Furnier took on the name Alice Cooper for his own. He was one of the first "shock rockers" with a stage show that featured guillotines, baby doll corpses, snakes, electric chairs and lots of fake blood.
Like many of his generation, the fine line between the character of Alice Cooper and that of the real Vincent Furnier began to fade away, and as a result Cooper became an alcoholic caricature of himself as time went on. Once he cleaned up, Cooper traded in his addiction to alcohol for a much healthier addiction to golf.
With his alcoholic days long behind him, I saw him perform at the 9:30 Club in Washington DC during the late 90s, and his show featured all of the above named accoutrements. Not only were his music and vocals still spot on, but the spectacle was amazing.
At the time of the show, I was producing music compilations for Time Life Music. Following the show, I was brought onto his tour bus to meet him, and to show his appreciation for all of the tracks we licensed of his for Time Life compilations, he signed photos and album covers for us and gave us each a tour T-shirt.  He was a gracious host who was about as normal as you could imagine.