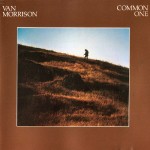 Here we have one of Van Morrison's most soulful pieces of music, originally from one of his most underrated albums. Common One was released in 1980 and features six deeply moving extended jazz meditations that hawked back to Morrison's classic Astral Weeks album in sound and texture.
However, unlike Astral Weeks, this record's release was met with unanimous derision from the critics who didn't understand the literary and jazz underpinnings of the music and found it ponderous and boring. While the record does lack the kind of immediacy that grabs you on the first listen, it does reap generous rewards upon further listening.
The title of this song was named from a 1902 book by Alfred Austin (Poet Laureate 1896-1912). This version features the same band that played on the album, and was recorded at Montreux before the album's release. The personnel featured new band members Mark Isham on trumpet, John Allair on organ and synthesizer, Pee Wee Ellis on saxophones and Peter Van Hooke on drums. The rest of the band is filled out with Morrison's Caledonia Soul Orchestra members Jeff Labes on piano, John Platania on guitar, David Hayes on bass and Dahaud Shaar on percussion.