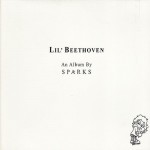 American brothers Ron and Russell Mael formed the group Halfnelson in 1970. Their first two albums were recorded in Woodstock, New York, produced by Todd Rundgren and released on the Bearsville record label. Both records tanked on these shores, so the brothers broke up the band, changed their name to Sparks, moved to England, got on the glam bandwagon and formed a new band that has gone on to endure for decades.
In a musical world dominated by David Bowie, Mott The Hoople, Lou Reed, The New York Dolls and Queen, the newly reformed Sparks caused a sensation across the pond in 1974 with songs like "This Town Ain't Big Enough For The Both Of Us," "Talent Is An Asset" and "At Home At Work At Play," and classic albums like Kimono My House, Propaganda and Indiscreet. Although considered part of the glam movement, the brothers had a much different persona…visually Russell was the flamboyant lead singer with a hysterical falsetto voice, while Ron was the straight man with the Hitler mustache framing a permanent grimace on his face, who played keyboards and barely moved a muscle except for his eyes which were constantly rolling up into his head every time he gazed upon his brother's antics.
As the 1970s came to an end, Sparks' popularity began to wane, so the group began working with dance music pioneer, Giorgio Moroder to freshen up their sound resulting in the 1979 #1 In Heaven record, which re-launched Sparks as an electronic dance group and restored their clout with critics and the hip record buying public. Over the years, they've released countless records for countless record labels and while the hits kept on coming overseas, they only scored one big hit on these shores in 1983 with Jane Wiedlin of The Go-Go's called "Cool Places."
Today's Song Of The Day is an intimate ballad from their 2002 album Lil' Beethoven featuring the following hilarious lyrics: "I married myself, I'm very happy together / Long, long walks on the beach, lovely times / I married myself, I'm very happy together / Candlelight dinners home, lovely times / This time it's gonna last, this time it's gonna last / Forever, forever, forever."
Sparks' concept for Lil' Beethoven was to pull away from the electronic dance music they had been doing for many years by creating a rather ornate listening experience utilizing lush orchestral backing with a heavy reliance on repetitive piano lines, synthesized orchestration and multi-tracked vocals.
Ornate it is, but all the orchestras in the world couldn't obscure the singular brand of humor that the Mael brothers continued to bring to their craft — "Your Call Is Very Important To Us, Please Hold" is built around an incessantly repeated business phone answering machine message, while "How Do I Get To Carnegie Hall?" revolves around the oldest joke in the book (practice, man practice), and "What Are All These Bands So Angry About" takes aim at their lack of commercial prospects – "Some might have done it, broken on through /  Wagner, Tatum, or Howlin' Wolf / Some might have done what we'll never do / What are all these bands so angry about?"
The Mael Brothers just finished their first solo tour called "Two Hands One Mouth," and even brought the show to these shores for a few rare dates including two at Coachella, plus stops in San Francisco and New York City, but alas they did not get out here to Chicago. With over 20 albums under their belt, including the just released Two Hands One Mouth live album, Sparks are the glam fad that thankfully never went out of style…