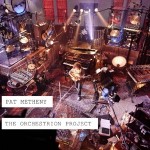 If the essence of Jazz is to listen to and improvise off of the musical ideas of those you are playing with, and you are in essence a one man band, can you still consider the music you make jazz?
The orchestrion is a mechanically controlled mini orchestra that was designed by Pat Metheny and controlled by his touch on the guitar. Metheny based his orchestrion on his childhood fascination for his grandfather's player piano. But where the player piano plays itself, Metheny, in essence plays an entire orchestra controlled through his guitar in the album and film, The Orchestrion Project. Metheny has termed the act of playing the orchestrion, "orchestrionics"
The orchestrion dates back to the time of player pianos in the late 1800s, right before the advent of sound recording. Inventors began to apply the principals of the player piano to the orchestra and developed early orchestrions that included piano, percussion and other mallet instruments.
Working with a number of musicians, technicians and engineers, Metheny developed his orchestrion with pianos, vibraphones, drums, guitars, basses, glass bottles, cymbals, hand percussion, tape loops and many other instruments. He then toured the world with it, following the release of his 2009 studio album Orchestrion.
The Orchestrion Project was filmed by Grammy and Emmy Award winning directors Pierre & François Lamoureux while on tour, at the former St Elias Church in Greenpoint, Brooklyn in November 2010. It features Pat Metheny on guitar performing "The Orchestrion Suite" as well as other tracks from across his career.
Today's Song Of The Day, "Improvisation #2," comes from the 2 CD soundtrack to the film and the celestial sounds that Metheny brings forth from the orchestrion sound truly amazing. Metheny continues to take a compact version of the orchestrion out on the road with him, most recently for his 2011 reunion tour with bassist Larry Grenadier and drummer Bill Stewart.
So, to answer the question posed at the beginning of this piece…whether improvising together or alone, one spin of The Orchestrion Project confirms that this music is unequivocally jazz.