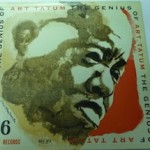 Blind from cataracts at an early age, Art Tatum used his gift of perfect pitch to teach himself how to play piano. The child prodigy grew to be one of the most lyrical and technically proficient stride piano players of all time.
As a child, Tatum moved to the Toledo School Of Music where he studied piano and braille. Soon after, he found himself on radio billed as "Toledo's Blind Pianist." Tatum's early style was inspired by the playing of James P Johnson, Fats Waller and Earl Hines. He achieved early notoriety by creating a sensation in the 1930s by winning a Cutting Contest (where players try to outplay each other in competition) at Morgan's Bar in New York City playing "Tea For Two" and "Tiger Rag."
During the 40s, he formed a trio and recorded for Decca records and then moved to Capitol in the late '40s. Although he did record in groups with the likes of Ben Webster, Lionel Hampton, Roy Eldridge and Benny Carter, Tatum primarily recorded solo for most of his career since musicians couldn't keep up with his improvisational style.
During the 1950s, Tatum recorded prolifically for Norman Granz's record labels (Clef, Norgran and Verve).  You can hear the influence he had on the Bebop movement in the sophisticated gymnastic playing on today's Song Of The Day from 1953 which was his interpretation of a Fats Waller original.
After gigs, Tatum would show up at parties and play the piano into the wee hours of the night. Some of his "party" recordings exist and show off his ability to effortlessly pull off some of the most intricate, mind-blowing fills within a relaxed environment, while meanwhile drinking copious amounts of alcohol. About ten years ago Verve released a 2 CD set called 20thCentruy Piano Genius comprised of recordings he made at the home of Hollywood music director Ray Heindorf in 1950 and 1955. These recordings are chock full of jaw-dropping greatness.
His influence can be felt in the music of Keith Jarrett, Chick Corea, Bill Evans, Oscar Peterson, Herbie Hancock and Thelonious Monk. Tatum died of uremia from kidney failure at the age of 47 in 1956.