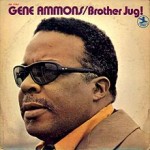 Song Of The Day – "Jungle Strut" by Gene Ammons
He was the son of boogie woogie pianist Albert Ammons, but Gene Ammons or "Jug" as he was affectionately nicknamed was known more for his full round tone on the tenor.
He got the name "Jug" from Billy Eckstine, after not fitting into the hats the band wore on stage. While with Eckstine, he played alongside Charlie Parker and later, Dexter Gordon.  He also recorded sessions Sonny Stitt, Donald Byrd, Jackie McLean, John Coltrane, Kenny Burrell, Mal Waldron, Art Farmer and many others, until narcotics derailed his career resulting in two jail terms taking away nine years of his life.
Upon release in 1969, he was signed by Bob Weinstock, who offered him the largest Jazz recording contract at the time with Prestige Records where he recorded today's Song Of The Day.