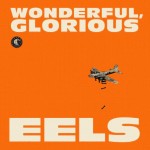 It's wonderful! It's glorious! It's Eels new album Wonderful, Glorious! Actually, the album could have been titled Everett Comes Alive, or even more to the point Get Happy! 
For their tenth studio album, Eels turned to a collaborative process, creating songs out of in-studio jams, with E (Mark Oliver Everett) adding lyrics on the fly. The result is a recording that is far more diverse in its sound, and a whole lot greasier than the last two Eels records.
Coming on the heels of the three-album trilogy, Hombre Lobo, End Times and Tomorrow Morning, with their attendant themes of desire, heartbreak and renewal, Wonderful, Glorious moves beyond renewal into happiness territory, or at least, as happy as Everett will allow.
But what are we to make of Everett's apparent happiness? Ten studio albums in, and this is a first! Generally speaking, when artists attain happiness and well-being in their personal lives, it usually means that the creativity suffers greatly. Yet on Wonderful, Everett manages to find new and interesting ways to revel in his high spirits, without dragging the proceedings down.
Right from the get-go, Everett and his band of merry men – the Chet, Knuckles, Koool G Murder and P-Boo – crawl out of the woodwork in somewhat vengeful form on "Bombs Away," with its wiggy electronic clicks and pops, stop-stuttering rhythms and proclamation: "I've had enough of being complacent, I've had enough of being the mouse…Bombs Away," setting the tone for the awakening to come.
"New Alphabet" proclaims "You know what, I'm in a good mood today. I'm so happy, it's not yesterday," while "Peach Blossom" hints at new beginnings with the couplet, "Oh man, feels so nice. That was a long, cold night. But then the sun came out, to thaw the ice."
"The Turnaround" adds "You're all gonna be sorry, when I leave town, And get it together for the turnaround" as it builds to the epic conclusion, "Six bucks in my pocket, the shoes on my feet, first step is out the door, and onto the street." On today's Song Of The Day, "Kinda Fuzzy," Everett and company share "I'm feeling kinda fuzzy, the future looks bright, don't mess with me I'm up for the fight!"
The record's most intimate moment comes in the spare ballad "Accident Prone," with a gorgeous melody and clever wordplay that turns the negative connotation of the title phrase into a positive:  "A happy accident, me running into you …I was getting tired of always being alone, Good thing that I've always been accident prone."
The deluxe version of the album doubles the song count by adding four new songs, plus an additional eight exclusive live versions of older songs. While Wonderful, Glorious doesn't dramatically break any new ground musically, it still an album that is, indeed wonderful and glorious. It should be lots of fun watching it come alive on stage when Eels take this album on tour.
.