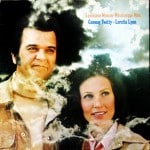 They were two of the biggest stars in all of country music during the 1970s, and together they made electrifying one-of-a-kind duets that spoke of the highs and lows of couples in and out of love. Conway Twitty and Loretta Lynn sent countless duets to the top of the country charts including "After The Fire Is Gone," "Lead Me On," "As Soon As I Hang Up the Phone," "Feelin's," "The Letter," "I Can't Love You Enough" and "Makin' Believe."
Today's Song Of The Day is perhaps the duet they're best known for and it topped the charts in 1973. The song was written by Becki Bluefield and Jim Owen, and it served as the title track from their 1973 chart-topping album of the same name.
Conway Twitty was born Harold Lloyd Jenkins, but took his stage name from two locations on a road map; Conway, AK and Twitty, TX. His earliest success was on the pop charts with his 1958 #1 single "It's Only Make Believe," which gave Elvis Presley a run for his money. He continued making pop records until 1965, when he found his calling in country music. He went on to score 55 number one singles on the Billboard Country Charts, a record that was broken by George Strait in 2006.
Some of his most indelible hits include "Hello Darlin'," "I Love You More Today," "How Much More Can She Stand," "I Can't Stop Loving You," "She Needs Someone to Hold Her (When She Cries)," "You've Never Been This Far Before," "I'm Not Through Loving You Yet," "Linda on My Mind," "Touch The Hand," "I Don't Know a Thing About Love (The Moon Song)," "I'd Just Love to Lay You Down," "Tight Fittin' Jeans" and "The Rose" to name but a few.
Loretta Lynn is the coal miner's daughter from Butcher Hollow, Kentucky who has also scored countless country hits including the classics "Don't Come Home A' Drinkin' (With Lovin' on Your Mind)," "You Ain't Woman Enough," "Fist City," and her signature song "Coal Miner's Daughter."
She released a string of singles dealing with women's issues during the 1970s that met with resistance from country radio, including "The Pill" (birth control), "One's On The Way" (women who repeatedly have children), "Rated X" (the double standards for men and women) and "Dear Uncle Sam" (women left behind by the Vietnam War). The songs established her as the poster child for the women's movement, particularly within the conservative confines of country music.
Her autobiography was made into an Academy Award-winning film, Coal Miner's Daughter, in 1980 starring Sissy Spacek and Tommy Lee Jones. Lynn's most recent album is the Jack White produced Van Lear Rose from 2004. Conway Twitty died in 1993 while on tour from an abdominal aortic aneurysm.