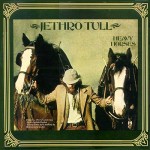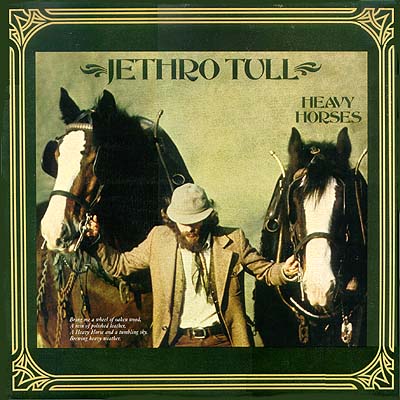 By 1978, Jethro Tull had been an entity for ten years and they were at the brink of irrelevancy due to the onslaught of punk rock. One would have thought that a veteran band like Tull would have either thrown in the towel, or tried its best to keep up with the times (and they did a few years later on the album A). But ever the contrarian, Ian Anderson and company dug their collective heels in and returned to the English countryside for musical and lyrical inspiration, making a somewhat ornate British folk album that made them completely out of step with the musical climate.
Heavy Horses followed on the heels of Songs From The Wood which was seen as somewhat of a comeback for the band following their disastrously heavy handed 1976 concept album Too Old To Rock And Roll, Too Young To Die. The album was also part of a "back to the roots" English folk album trilogy that consisted of the albums Songs From The Wood, Heavy Horses and concluded with 1979's Stormwatch.
Lyrically, Ian Anderson turned his attention toward animals, using cats ("The Mouse Police Never Sleep"), horses ("Heavy Horses"), insects ("Moths"), mice ("One Brown Mouse") and dogs ("Rover") as an allegory for the human condition. Musically, the band toughened up their sound from their last album, with closer miked vocals and harder-edged playing on an album that was more progressive than its predecessor. It was also their last consistently great album.
Much of the consistency of the album comes down to the tight musicianship of the Tull lineup that had been playing together for a number of years, including Ian Anderson on flute and vocals, Martin Barre on guitar, Barriemore Barlow on drums, John Evan on keyboards, David Palmer on keyboards and orchestral arrangements and John Glascock on bass. Unfortunately, this was Glascock's last full album with the group as his health had begun to deteriorate. He would pass away in 1979 as the result of a genetic heart valve defect.
Today's Song Of The Day hearkens toward the prog rock sound of Thick As A Brick and A Passion Play with its rapidly shifting gears. It is a sprawling tune that features a great guitar riff by Martin Barre followed by the song's signature stripped down bass and drum line that introduces the vocals. The song was also the opening track of the live Bursting Out double album that was recorded on the Heavy Horses tour.
Other highlights on this varied platter include "Moths" with its trademark flute-and-guitar interplay on a song about the suicidal attraction moths have to bright light, the title track which paid tribute to England's vanishing work horses in favor of machinery, and fan favorites like the Celtic flavored "Acres Wild" (featuring violin played by Darryl Way of Curved Air) and the album's closer "Weathercock" (which would turn up a years later on their Christmas album).
Sadly for Tull, the punk rock movement saw to it that this record was followed by a long downward spiral from which Jethro Tull would never recover. Today, Ian Hunter tours around the world either as a solo act or under the Jethro Tull moniker. Most recently, he's recorded a sequel to Thick As A Brick called TAAB2 and is currently touring this summer performing both albums in their entirety.