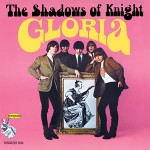 When they formed in 1965, The Shadows Of The Knight described their mission as such: "The Stones, Animals and Yardbirds took the Chicago Blues and gave it an English interpretation. We've taken the English version of the Blues and re-added a Chicago touch." And bringing the British Invasion's version of Chicago Blues back home was exactly what they did by way of several seminal garage rock classics.
The Shadows Of The Knight's classic lineup included Jim Sohns on vocals, Warren Rogers  on bass, Jerry McGeorge on rhythm guitar, Joe Kelly on lead guitar and Tom Schiffour on drums.
The group cut its teeth playing at a small club in the northern suburbs of Chicago (Arlington Heights for you local readers) called The Cellar, drawing hundreds of fans each weekend for six months. You can hear one of the group's earth shattering 1966 shows from The Cellar on an album called Raw 'n Alive At The Cellar that was subsequently released by Sundazed Records years later. The Cellar gigs got them a coveted opening slot for The Byrds, which led to a recording contract with the tiny Chicago Dunwich record label.
One of the highlights of the band's set was their version of Van Morrison and Them's single "Gloria." Dunwich producers Bill Traut and George Badonski urged the group to record the song as their first single, however the group changed Van Morrison's original lyric from "she comes to my room, then she made me feel alright" to "she called out my name, that made me feel alright," thereby alluding the AM Radio censors who had banned Them's version. As a result, "Gloria" climbed to #10 on the charts and sold over one million copies.
Their first album, also titled Gloria, contained credible covers of John Lee Hooker's "Boom Boom," Muddy Waters' "I Got My Mojo Working," Willie Dixon's "You Can't Judge A Book By It's Cover," "(I'm Your) Hoochie Coochie Man" and "I Just Want To Make Love With You," Chuck Berry's "Let It Rock" and Bo Diddley's "Oh Yeah," which is today's Song Of The Day. They adapted their version of "Oh Yeah" not from Bo Diddley's recording but from a British garage rock band called The Others. It was their second biggest single climbing to #39 on the charts and probably provided the blueprint for David Bowie's "Jene Genie."
The group released a second equally excellent Dunwich album called Back Door Men; however they were not able to follow "Gloria" with another smash single so the rest of the band bailed on Sohns leaving him with the rights to the name of the band which proved mighty lucrative years later. Meanwhile, Dunwich sold the Shadows master tapes to Atlantic Records (who was their distributor) for one dollar figuring nothing would ever come from them!
Sohns' version of The Shadows signed to Buddah Records subsidiary Super K, where he was paired with studio musicians to make a bubblegum album called Shadows Of The Knight.  At the same time, Dunwich released an updated version of "Gloria" called "Gloria '69" featuring new bass and guitar tracks overdubbed by Jim Donlinger and none other than Peter Cetera, who would go on to be a founding member of Chicago.
Over the years, Sohns fronted many different permutations of The Shadows Of The Knight, sporadically recording singles and playing gigs on the oldies circuit. He briefly managed punk legends Skafish between 1978 and 1980, and would often join them on stage for their encore of "Gloria." In 1980, Sohns was arrested on drug charges for which he served three years in prison.
Upon returning from prison, Sohns reformed The Shadows and opened for the likes of Cheap Trick and The Romantics exposing their music to a whole new audience. After a Sohns-led reformed version of the group headlined Little Steven's Underground Garage tour, the group released an album of new material in 2007 called A Knight To Remember which was followed by another album the following year called Rock 'n' Roll Survivors.
Today, The Shadows Of The Knight can still be seen performing shows on the oldies circuit.