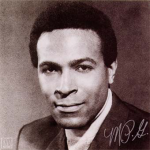 The Marvin Gaye albums What's Going On, Let's Get It On and Here, My Dear are considered to be his finest by fans and critics alike, and it would be hard to argue the contrary with what's in the grooves. But it mystifies me that the critics fail to mention the album M.P.G. in the same breath as the others.
M.P.G. came out in April of 1969, and was one of Marvin Gaye's last records before he took the control of his career away from Motown, and began calling the shots himself. That said, M.P.G. (for Marvin Pentz Gaye, not miles per gallon) was his most consistent release up to that point. It was also his first solo record to make the top 40 of the Billboard Pop album charts, peaking at #33, mainly due to the singles "Too Busy Thinking About My Baby" (#1 R&B/#4 Pop), originally recorded by The Temptations, and "That's The Way Love Is" (#2 R&B/#7 Pop), also a remake originally recorded by The Isley Brothers.
But it's the lesser known songs on the album, that are equally as good as the singles, like "It's A Bitter Pill To Swallow," "More Than A Heart Can Stand," "Seek And You Shall Find," "The End Of Our Road" (a cover of a Gladys Knight & The Pips song) and today's Song Of The Day, elevating this record head and shoulders taller than the rest of his sixties output.
Of course, much of the Motown magic comes from The Funk Brothers, Motown's ace studio band, who backed so many artists on their albums, including this one. While there are no musician credits on the record, one can guess that the band was made up of some, or all, of the following musicians: Johnny Griffith and Earl Van Dyke on piano; James Jamerson and Bob Babbitt on bass; Benny "Papa Zita" Benjamin, Uriel Jones and Richard "Pistol" Allen on drums; Robert White, Eddie Willis, Dennis Coffey and Joe Messina (guitar); Paul Riser on trombone; Jack Ashford on percussion; Jack Brokensha on vibraphone and marimba; and Eddie "Bongo" Brown on percussion. Background vocals were undoubtedly provided by The Andantes: Marlene Barrow, Jackie Hicks and Louvain Demps.
And then there's marvelous Marvin. Plaintive, soulful, emotive, spiritual, seductive, dark and moody…all wrapped up into song, like no one that came before him, and none that have come since.