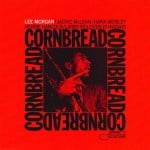 When an edited version of trumpeter Lee Morgan's signature song, "The Sidewinder" was released as a single in 1964, it became the song that resuscitated Blue Note Records, literally saving the company from bankruptcy. As a result, Blue Note hounded Morgan to come up with another song that could do the trick again.
The soul-jazz title track from the album Cornbread was the song Morgan came up with, and while it captures the groovilicious feel of "The Sidewinder," it failed to do the trick on the charts.
The album was recorded on September 18, 1965 and features the hard-bop playing of Lee Morgan on trumpet, Herbie Hancock on piano, Jackie McLean on alto sax, Hank Mobley on tenor sax, Larry Ridley on bass and Billy Higgins on drums. All of the album's songs were composed by Morgan except "Ill Wind," which is a standard by Harold Arlen and Ted Koehler.
Before, "The Sidewinder," Lee Morgan's hard-bop trumpet playing figured prominently on sides by Art Blakey's Jazz Messengers, trombonist extraordinaire Granchan Moncur, the king of the Hammond B3 Jimmy Smith, bebop legend Dizzy Gillespie and as a sideman to John Coltrane on his classic album "Blue Train." During his stint at Blue Note, Morgan cut 24 albums as a leader and played on sessions by Hank Mobley, Jimmy Smith, Art Blakey, Wayne Shorter and Herbie Hancock, to name but a few.
While the title track to Cornbread was the one Blue Note had its hopes set on to shift copies of the record at retail, the record includes a wealth of great tunes including today's blistering, hard-driving Song Of The Day, his signature samba ballad "Ceora," the sweet and sensitive "Ill Wind" (which gets the Miles treatment with Morgan on muted modal horn and Hancock playing a wondrous piano solo), and the album's hard-bop closer "Most Like Lee."
Morgan lived most of his adult life as a heroin addict, which unfortunately led to his murder at the hands of Helen More, his common-law wife. On February 19, 1972, More walked into a New York City club called Slugs, and shot him point blank as he was getting ready to begin his set on stage. While his injuries weren't at first fatal, the ambulance service was afraid to go to the neighborhood where the club was, and by the time they got there, Morgan had bled to death at the age of 33.