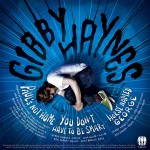 Today's Song Of The Day hails from a Third Man Records' "Blue Series" single released by Jack White, who also plays guitar and sings on all three tracks. Gibby Haynes is the ex-captain of the Trinity University basketball team and ex-accountant who went on to be a founding member (along with Paul Leary) of Texas' own Butthole Surfers.
The Surfers remain purveyors of hard core left-wing psychedelic music since their formation in 1976. With albums like Locust Abortion Technician, Hairway To Steven and Psychic…Powerless…And Another Man's Sac, the Surfers have spent the better part of thirty years bending the rules in rock and roll while staying far left of the beaten path.
Haynes has also worked with the likes of Ministry ("Jesus Built My Hotrod"), Dead Milkmen, Revolting Cocks and Johnny Depp (in their band "P"), and he is the lucky recipient of a blow job in the Jim Jarmusch film, Dead Man, starring Johnny Depp with a feedback soaked soundtrack provided by Neil Young.
Today's Song Of The Day is an Adrenalin O.D. cover from a brand new three-track single that also includes two excellent Gibby Haynes originals, "You Don't Have To Be Smart" and "Horse Named George." The single was recorded in one day at Jack White's studio in Nashville with bassist Fats Kaplin and drummer Ben Swank.
I really dig the "I buried Paul" Beatles reference in the lyrics to the track.