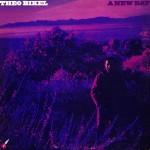 Broadway and film star, folk singer, songwriter, civil rights activist, and back in 1969 Theodore Bikel attempted to add pop star to his list of credentials with the release of one bright and shining album for Reprise Records.
As a Broadway star, Theodore Bikel originated the role of Captain Von Trapp in The Sound Of Music on Broadway and he's portrayed the role of Tevye from Fiddler On The Roof on stage over 2000 times. In film, he was nominated for an Academy Award for Best Supporting Actor in The Defiant Ones (1958) and also acted in The African Queen (1951) and Frank Zappa's 200 Motels (1970) to name but a few.
He was one of the first artists signed to Jac Holzman's upstart Elektra Records where he recorded 16 albums of ethnic folk songs throughout the late '50s and early '60s, helping to establish himself as a recording artist and the label as an entity to be reckoned with.  He also founded the Newport Folk Festival (with Pete Seeger, Oscar Brand and George Wein) in 1959 and became a civil rights activist in the early '60s and a delegate to the 1968 Democratic Convention.
He was signed to Mo Ostin's artist friendly Reprise Records in 1968 where he was paired with hip producer of the day, Richard Perry to record the album A New Day where today's Song Of The Day was culled. Perry's stock in trade within the Warner/Reprise family was as a career revivalist. He worked with established artists who hadn't had hits in awhile and put them into the context of what was currently happening in music. To that end, Perry recorded albums with Ella Fitzgerald, Fats Domino and Little Richard for the label, casting them all into a more hip and contemporary vein.
As he did with the others in his charge, Perry surrounded Bikel with sympathetic backing musicians including Larry Knechtel on bass and keyboards, Eric Weissberg on banjo, Jim Gordon on drums, Louie Shelton on guitar, Paul Beaver (of Beaver & Krause) on synthesizer and Sid Sharp, Donnie Gallucci and Joey Newman on strings. Together they worked to update Bikel's sound by choosing current songs that would spotlight Bikel's interpretive talents.
Today, the album is purely a pop period piece from the late '60s that features Bikel performing current hits of the day in contemporary easy listening settings of the time, as evidenced by the chamber pop arrangements on Donovan's "Jennifer Juniper," The Rolling Stones' "Lady Jane," The Beatles' "For No One," Joni Mitchell's "Urge For Going" and today's Song Of The Day, The Beatles' "Piggies." While the arrangements date the material, the material doesn't sound dated at all.
Elsewhere Bikel rocks out on Cat Stevens' "I Love My Dog" and gets positively theatrical (and a little hysterical) on Jaques Brel's "Amsterdam." Other songs include covers of Peter Yarrow's (of Peter, Paul & Mary) "The Great Mandala (The Wheel Of Life)," Paul Williams' "The Lady Is Waiting," Bikel's own "I Hear The Laughter" and yet a third Beatles song, "Mother Nature's Son." Bikel lends a theatrical touch to several of the songs by incorporating spoken word vignettes that occasionally drag the proceedings down.
Back in the late 1960s, Warner Bros. and Reprise Records release sampler albums in a series they called The Loss Leaders. They charged $2.00 for each double album and included tracks from all of the labels' new releases. As a pre-teen kid, I first discovered groups like Frank Zappa and The Mothers Of Invention, The Fugs, Randy Newman, Jimi Hendrix, Jethro Tull, Joni Mitchell, Gordon Lightfoot, Rod McKuen, Harper's Bizarre, The Mike Post Coalition, Petula Clark and Kenny Rogers & The First Edition through these albums.
I first came into contact with tracks from Bikel's A New Day from the Loss Leader albums Schlaggers, which included his cover of Joni Mitchell's "Urge For Goin'," and The 1969 Warner/Reprise Record Show that included today's Song Of The Day.
1969 Reprise Records RS-6348