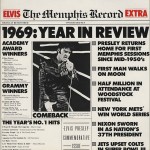 I vividly remember the day Elvis died. My too hip for the world sixteen year old friends and I realized that it was a big deal for some, but the Elvis fans we knew were so old and out of touch, that his passing wouldn't have registered at all on our radar had it not been for the media frenzy that surrounded it. To us, Elvis was a totally irrelevant, washed up and bloated middle of the road singer whose death was no big deal.
It wasn't until several years later that I finally got what all the fuss was about, and at that point I joined the masses who realized that Elvis really was The King! Everybody has a favorite version of Elvis: the hip-swivellin' 1950s hep-cat, the swarmy good 'ol boy of his many second rate films, the leather-clad comeback kid of 1968, the sequined-suited star of Vegas, and, sadly, the fat bloated disaster of the late '70s, right before he met his maker.
My particular favorite is the post '68 Comeback Elvis of The Memphis Record. Elvis was fired up to start performing again after the famous '68 Comeback Special aired. A residency in Vegas was booked and it was decided that Elvis would go into the studio to record a new batch of songs before returning to Vegas.
Elvis recorded with Chips Moman at American Sound Studios in Memphis over four days in January of 1969. It was one of the first times that Elvis entered the studio without Colonel Tom Parker choosing the songs he would record. With Moman firmly in charge, Elvis was able to update his sound by covering some of the best song copyrights of the day.
By this point in his career, Elvis's star had fallen after years of bad movies and equally bad soundtrack recordings. Sure, Elvis was basking in the glow of the recent '68 Comeback Special, but that was just a blip on the radar and no one was really sure about whether Elvis would bring his A-game with him into the studio. "I mean we were thrilled about Elvis," said trumpeter Wayne Jackson, "but it wasn't like doing Neil Diamond," who in their eyes was professional and had the creative clout that Elvis lacked.
As it turned out, Elvis did bring his A-game and sang with a passion and conviction that proved the comeback was for real. But Elvis bringing his A-game to the sessions wouldn't have meant a thing had it not been for the band of session musicians Moman recruited to back him including Reggie Young and Dan Penn on guitar, Bobby Wood and Ronnie Milsap on piano, Bobby Emmons on organ, Tommy Cogbill and Mike Leech on bass, Gene Chrisman on drums, Ed Kollis on harmonica, John Hughey on pedal steel, Wayne Jackson, Dick Steff and R.F. Taylor on trumpet, Ed Logan, Jack Hale and Gerald Richardson on trombone, Tony Cason and Joe D'Gerolamo on French horn, Andrew Love, Jackie Thomas, Glen Spreen and J.P. Luper on saxophone and Joe Babcock, Dolores Edgin, Mary Greene, Charlie Hodge, Ginger Holladay, Mary Holladay, Millie Kirkham, Ronnie Milsap, Sonja Montgomery, June Page, Susan Pilkington, Sandy Posey,  Donna Thatcher and Hurschel Wiginton on backing vocals. Together, they helped to make Elvis sound relevant on record again.
The recordings were originally divided up between two separate LPs, From Elvis in Memphis and Back In Memphis. By doing so, the seismic impact of these recordings could not be felt. ("Power Of My Love" was originally released on From Elvis In Memphis.) It wasn't until 1987 when A&R man, Gregg Geller compiled The Memphis Record that you could really hear the concentration of greatness that came out of these sessions.
Amongst the songs cut were now Elvis classics like "Suspicious Minds" (his first #1 single since 1962), In The Ghetto" (his first top-ten single in four years), "Kentucky Rain," "Any Day Now," "True Love Travels On A Gravel Road," "Only The Strong Survive," ""Rubberneckin'," "Stranger In My Home Town," "Don't Cry Daddy," and "Long Black Limousine," that encompassed gritty soul, funk, country, pop, ballads and rockers.
Today's Song Of The Day features a sturdy blues infused horn arrangement and a stunning economy in the lyrics…"Punch it, pound it, what good does it do / There's just no stoppin' the way I feel for you / Cos' every minute, every hour you'll be shaken / By the strength and mighty power of my love."
Elvis would never sound this great again…