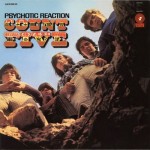 "I Had Too Much To Dream Last Night" by The Electric Prunes, "Dirty Water" by The Standells, "Pushin' Too Hard" by The Seeds, "Hey Joe" by The Leaves, "Farmer John" by The Premiers – these are some of the greatest garage rock classics of all time. But, perhaps the gnarliest rave up of them all is today's Song Of The Day, "Psychotic Reaction" by The Count Five.
The Count Five formed in San Jose, California in the early 1960s and consisted of John "Mouse" Michalski on guitar, Roy Chaney on bass, John "Sean" Byrne on vocals and rhythm guitar, and Craig "Butch" Atkinson on drums.
Byrne came up with the group's signature song while attending a Health Education class at San Jose City College in California. During a discussion about psychosis, a classmate suggested that "Psychotic Reaction" would make a great song title. By the end of the day, a garage rock classic was born.
"Psychotic Reaction" quickly became the centerpiece of the group's stage act where it was heard by a local DJ named Brian Lord who shopped the song around to nearly every local record label. The single was ultimately released on the tiny Double Shot record label, after the group was rejected by everyone else they approached.
Even though the song was a brazen rip off of The Yardbirds' sound, it climbed all the way up to the #5 spot on the singles charts in 1966. Part of the song's popularity had to do with The Count Five's shtick of dressing up in Count Dracula capes on stage.
The group's sole album was also called Psychotic Reaction.  It featured original tunes like "Pretty Big Mouth," "They're Gonna Get You" and "Double Decker Bus" that repeated the same formula of their signature hit to no avail. And while credit must be given to the band for covering two songs by The Who (who were relatively unknown in America), their ill-conceived versions of "My Generation" and "Out In The Street" are as amateurish as the rest of the platter.
After the single dropped off of the charts and the album failed to even make a dent, each member of the group decided to pursue college bringing the legend of The Count Five to a close.
The song was subsequently rescued from obscurity by Lenny Kaye and Jac Holzman, who picked the song for the landmark 1972 compilation album Nuggets: Original Artyfacts from the First Psychedelic Era, 1965–1968.
Today, the song is regarded as a bona-fide classic and is regularly covered by bands all over the world. Just this past weekend, Wilco included a version of the song in their Solid Sound Festival all-request show.