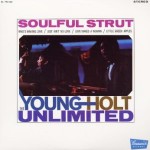 It was a breath of funked out fresh air when "Soulful Strut" hit the charts in 1968, and today the song is one of the most refreshing instrumentals of all time.
Eldee Young (bass) and Isaac "Red" Holt (drums) were Chicago musicians who made up the rhythm section for The Ramsey Lewis Trio. After gigging with Lewis for ten years and scoring the monster hit "The In Crowd," Young and Holt left to form their own jazz combo called The Young-Holt Trio with pianist Don Walker.
Together, the trio scored a top 20 R&B hit with "Wack Wack," and recorded several records for the Brunswick record label. By 1968, Young and Holt replaced Walker with Ken Chaney and renamed the group Young-Holt Unlimited in an effort to sound more current and tap into the youth market with their recordings.
Today's Song Of The Day got its start as the backing track of "Am I The Same Girl," a minor hit by Barbara Acklin (#33 R&B/#79 Pop) which was written by Eugene Record (Acklin's husband) and Sonny Sanders. Acklin was a Chicago soul singer who scored numerous hits on her own, but is perhaps best known as the co-writer (with Record) of the Chi-Lites' smash hit "Have You Seen Her."
It was Brunswick Records producer Carl Davis who got the idea to remove Acklin's voice from "Am I The Same Girl" and to release it as an instrumental. Acklin's vocal was replaced with a piano solo played by Floyd Morris and the instrumental was renamed "Soulful Strut."  The instrumental version was released before Acklin's "Am I The Same Girl" and it climbed all the way to the #3 position on both the R&B and pop charts.
The single was credited to Young-Holt Unlimited; however it is believed that the backing track was actually performed by the Brunswick Records studio band with neither Eldee Young nor Red Holt present on the track. At least three other songs from Young-Holt Unlimited's Soulful Strut album were originally Acklin backing tracks including "Please Sunrise," "Love Makes A Woman" and "Just Ain't No Lovin'."
As a vocal, "Am I The Same Girl" was covered by both Dusty Springfield and Swing Out Sister, who both scored minor charts hits with their versions (although Swing Out Sister's version did top the adult contemporary charts). As an instrumental, "Soulful Strut" was later covered by George Benson in 1979, and again by Grover Washington Jr. in 1996. The song has also been sampled by 2 Live Crew and The Beastie Boys, and Joss Stone used the track as the basis for her 2005 track "Don't Cha Wanna Ride."