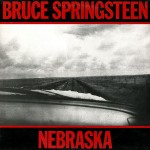 The guttural howls that he lets out at the end of this psychobilly classic, mixed with its pleading paranoid lyrics conjures the mood of pure dread…and with Bruce Springsteen's sixth album, it was all about mood.
Hot on the heels of "The River," his biggest album and the tour to support it, Bruce Springsteen found himself back at home in Colts Neck, NJ with some restless free time on his hand and lots of bummer songs rattling around his brain.
A change of work habits was in the air as well. Up to this point, Springsteen fleshed out his song in the studio with the band waiting around, resulting in albums that took years to complete. For "Nebraska," Springsteen called upon his engineer friend Mike Batlin to set up a primitive home studio to create demos of his new set of songs to be presented to the band in complete form.
Springsteen worked fast at home and over a period of few days at the end of 1981, he captured fourteen new songs on his very basic Tascam 4-Track cassette recorder including early versions of "Born In The USA," "Pink Cadillac" and "Working On The Highway" (then titled "Child Bride") that wouldn't see the light of day for several more years.
Springsteen proceeded to carry the cassette around with him for several weeks before making a copy and sending it to his manager, Jon Landau, who was blown away by not only the darkness and depth of the material, but the change of musical direction he heard.
Upon reconvening in the studio with the E Streeters to work up full band versions of the songs, it became evident that they couldn't capture the dark, desolate feeling that the songs needed. So a remixed version of the "demo" cassette that Springsteen recorded at home literally became his next record.
Once the bigwigs at Columbia Records got it in their head that they weren't going to be releasing another full-band blockbuster Springsteen record as the follow-up to "The River," they devised a laid-back promotional campaign to suit the material.
Springsteen fans were confused with the release of "Nebraska" in 1982, but the critics were rightfully blown away by its austere grandeur, hailing the record as one of his best…which indeed, it still is.