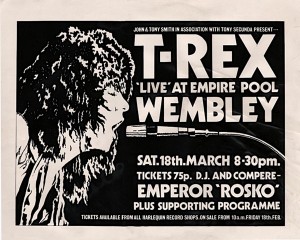 I've just gotta say wow! I love youtube. It's a place where all your musical dreams come true. Where else can you go and find a super crisp, super clean 68 minute concert in its entirety by Marc Bolan and T. Rex from 1972. Where has this film been all my life?
I'll tell you where it's been…it's been in Ring Starr's closet…or wherever he stores his aging tins of film. No doubt, it was tied up in litigation sometime in its past because it was filmed by The Beatles' Apple Films, and everything that company touched back in the day, turned to litigation.
The entire 68 minute early show from Empire Pool in Wembley London was filmed by Ringo Starr on March 18, 1972. Ringo was capturing footage for the film Born To Boogie, and indeed clips from this concert appear in the film. But here it is, the real deal! T. Rex consisting of Marc Bolan on guitar and vocals, Mickey Finn on percussion, Bill Legend on drums and Steve Currie on bass in all their high-flying glory for a full concert.
What a tune stack! "Jeepster," "Spaceball Ricochet," "Cosmic Dancer," Telegram Sam," "Hot Love," "Baby Strange," "(Bang A Gong) Get It On," "Summertime Blues"…all captured on filmed during the band's prime, between the time they released Electric Warrior and The Slider. I've said it before, and it looks like I'm gonna say it again…it really doesn't get any better than this.
If you've got the time, it's well worth a viewing.