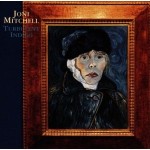 "Turbulent Indigo" was Joni Mitchell's last great album. That's not to say that all that followed wasn't any good, it's just that "Indigo" was her last consistently good album from beginning to end.
Coming in on the heels of a trio of experimental records on the Geffen label – "Dog Eat Dog," "Chalk Marks In a Rainstorm" and "Night Ride Home" – that featured electronic textures and somewhat dated layered production, "Turbulent Indigo" returned Mitchell to Reprise records with a more stripped down straight-ahead sound that peeled back the atmospheric electronics of the previous records in favor of more organic instrumentation akin to records like "Hejira."
Thematically, the album was her state of the world circa 1994, and her world was not a pretty place to live in. Once again, Larry Klein played bass and produced, but the couple's marriage came to an end during the sessions resulting in their divorce after twelve years of marriage.
To match the title, Mitchell delivered her most turbulent set of songs in a long time including "Sex Kills" which dealt with such social injustices as violence, global warming, sexuality in consumerism and AIDS with its repeating chorus, "And the gas leaks, and the oil spills…And sex sells everything, and sex kills."
The song, "Not To Blame" speaks about domestic violence with its harrowing opening couplet "The story hit the news from coast to coast/They say you beat the girl you loved the most." Although Mitchell has denied it, the song was supposedly about Jackson Browne and Darryl Hannah's tumultuous relationship.
The album's opening track "Sunny Sunday" dealt with the topic of suicide, and today's Song Of the Day is the gut-wrenching "Magdalene Laundries" dealing with the suffering and abuse of "fallen" women who were sent to the Magdalen Asylums at the hands of the Roman Catholic Church for being promiscuous or pregnant out of wedlock.
"Yvette In English" was co-written by David Crosby and features the soprano sax of Wayne Shorter as does several other songs on the record. And Seal sings with Mitchell on the James Brown cover "How Do You Stop." The record may seem like a depressing affair by my description, but this two-time Grammy winner was one of her most inspiring records in many years, and like I said before, her last consistently great record.