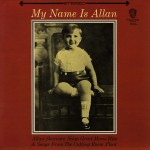 Funny guys are often tragic figures, and Allan Sherman surely fits into this category. In the span of several years, Sherman went from the pinnacle of success as a TV sketch writer and recording artist who had a huge hit with the song "Hello Muddah, Hello Fadduh," (plus the requisite books, cartoons and board games that spun off of the song's success), to being a divorced alcoholic, living on unemployment benefits with emphysema and diabetes… and dead by the all-too-young age of 49.
Part of the blame can be left to the cultural shift this country went through after the assassination of John F. Kennedy that found our nation not much in the mood for anything fun. By the time Sherman's fourth album, "My Name Is Allan," was released (where this song is from), comedians like Sherman and Vaughn Meader  ("The First Family") found themselves out of work and out of public favor. One day Sherman was guest hosting the "Tonight Show" for Johnny Carson, and the next thing you know, he was recording songs for vending machine distributors — such was the dramatic rise and fall of Allan Sherman.
But during the early 1960s, no Jewish household was without at least one of his records, and in fact most Americans, Jewish or not, purchased them resulting in three of the biggest records in the country between 1962 and 1963 – "My Son The Folk Singer," "My Son The Celebrity" and "My Sun The Nut." Today, no garage sale is complete without stumbling upon an Allan Sherman record (usually tucked in between Herb Alpert & The Tijuana Brass' "Whipped Cream and Other Delights," Vaughn Meader's "The First Family" and Bob Newhart's "Button Down Mind" albums).
Sherman was not only a pioneer of song parody, he also created what became the hit game show "I've Got A Secret," which ran on CBS from 1952 to 1967. Many of his songs were co-written by Lou Busch, who some of you may know as Joe "Fingers" Carr, the artist behind numerous instrumental honky-tonk piano albums released during the late fifties and early sixties (and also easily found in garage sale bins).
Today's Song Of The Day is a parody of the song "The Continental," made famous by Leo Reisman and his Orchestra, and was chosen because of the rare video which shows Allan Sherman in action. Perhaps Sherman is a distant memory to many, or worse yet, completely unknown, but kids of all generations are usually none the wiser, that his was the voice in Dr. Seuss' "The Cat In The Hat."