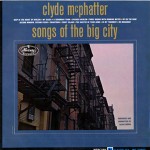 Singles and albums that came out of the Brill Building during the early 1960s have a distinct sound of their own. It's not just down to the great songs that were written by the best songwriters New York City had to offer, or the now-legendary musicians who played on the sessions, but it also came down to the production sound, which was the key ingredient that made each record sound great coming out of a mono speaker on a car radio or record player. Without that production sound, there was no record.
One of the great albums to come out of The Brill Building was Clyde McPhatter' s 1964 release Songs Of The Big City, which was a concept album featuring, you guessed it, songs about city life. The album has that classic New York City sound with similar production values to singles by Dionne Warwick, Frankie Valli & The Four Seasons, Neil Sedaka and the classic productions of Phil Spector.
By the time it came out in 1964, McPhatter had already been a key member of Billy Ward and his Dominos, singing on their hits "Do Something For Me" and "Sixty Minute Man." Ward was a strict taskmaster who didn't pay his singers very well, so McPhatter left The Dominoes in 1953 and was replaced by Jackie Wilson.
When Ahmet Ertegun heard that McPhatter left the group, he quickly signed him to Atlantic Records, and together they set upon forming Clyde McPhatter and The Drifters. McPhatter' s vocals graced the hits "Money Honey," "Such A Night," "White Christmas" and "What'cha Gonna Do," before McPhatter left in 1955 to serve in the Army. Upon his discharge, he released dozens of singles as a solo artist for Atlantic, MGM, Mercury, Amy, Deram and Decca Records, but only scored one substantial hit with "A Lover's Question" in 1958.
In 1964, McPhatter was deep into his contract with Mercury Records when he recorded "The Shelter Of Your Arms." The song became a big hit for Sammy Davis Jr., who released his version the same year on Reprise records. It was one of two hits the song's writer Jerry Samuels would score, the other was "They're Coming to Take Me Away, Ha-Haaa!," which he wrote, produced and recorded under the pseudonym Napoleon XIV.
Songs Of The Big City featured songs by many of the Brill Building best writers including Jerry Lieber and Phil Spector's "Spanish Harlem," Gerry Goffin and Carole King's "Up On The Roof" and "On Broadway" by Cynthia Weil, Barry Mann, Jerry Lieber and Mike Stoller.
Jerry Radcliffe co-wrote many of the other songs on the album, including "Deep In The Heart Of Harlem," "My Block," "A Suburban Town" (which interlopes phrases from "On Broadway," and "Uptown" into its verses), "Three Rooms With Running Water" and "Coney Island."
Radcliffe was part of a cadre of in-demand session vocalists including Doris Troy, Dee Dee Warwick, Cissy Houston, Melba Moore, Toni Wine, Jean Thomas and Barbara Jean English, who all appeared on hundreds of singles during this time. 
Also of note are the very "hip" liner notes on the back cover of the original album jacket, which were written by Ira Howard. Howard was a writer for Cashbox during the late '50s and early '60s and mingled with the likes of Bobby Darin, The Supremes, Dick Clark and Phil Spector, to name a few. I was lucky enough to work with him at Reader's Digest Recorded Music in the early 1990s, where he used to regale me with tales of the wild and wacky record business during the time.
After years with no hits, McPhatter was on the precipice of another comeback recording for Decca in 1972, when he died of complications from alcoholism at the age of 39.