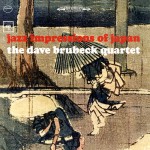 Ever since the news broke about Dave Brubeck's passing earlier this week, I've been mourning the only way record geeks like myself know how to, grab all of the music you own by the artist and start listening. I'm a serious record collector who has been at it now for over 40 years. In that time, I think I've amassed a pretty well-rounded and eclectic collection of music suitable for any mood. I became aware of Brubeck's music many years ago, but didn't buy my first records by him (which were Take Five and At Carnegie Hall) until the early 1980s when I worked in a local Music Den record store in New Jersey. Yet, in the ensuing years, if I ever saw a Brubeck record in a garage sale in decent shape, I'd certainly snap it up.
That all changed a little over two years ago when I began to seek out every record Brubeck recorded (on vinyl) in an effort to hear as much of his entire recorded oeuvre as possible. So with the help of collector friends and eBay, I began purchasing records as I'd see them listed, and only if they were at a reasonable price. (Like any record collector, most records no matter what price can be rationalized into being a reasonable price…especially if they are original pressings.) I ended up with over 50 of his records in my collection, and I thought in tribute to Brubeck's legacy, I'd share some of the albums I've listened to this week, many of which I would recommend as some of the best in his vast catalog.
My absolute favorite Brubeck album was one released in 1960 called The Riddle, featuring Brubeck's Quartet – Joe Morello on drums, Eugene Wright on bass and clarinetist Bill Smith filling in for Paul Desmond. The album's theme is variations on the song "Hey, Ho, Nobody Home," composed by Bill Smith (who was a member of Brubeck's Octet in 1956). While not as common a title as the Time Out album in his catalog, it is still one of Brubeck's most mesmerizing and enjoyable recordings and well worth seeking out.
Today's Song Of The Day was culled from Brubeck's 1964 album Jazz Impressions Of Japan, another outstanding quartet recording featuring Brubeck's most famous line-up of Joe Morello on drums, Eugene Wright on bass and Paul Desmond on alto sax. "Toki's Theme," which in my estimation is one of the most "Shagadelic" tracks in Brubeck's entire catalog, was written for a long-gone television series called Mr. Broadway. Brubeck would continue to record some of the music he composed for the series on his essential Jazz Impressions Of New York album which was released the following year.
One of the earliest Brubeck's recordings that I revisited this week was The Dave Brubeck Octet album from 1956. The Octet included Cal Tjader on the drums, David Van Kriedt on tenor saxophone, Paul Desmond on alto saxophone and, crucially, William O' Smith on clarinet. There's nothing like the sound of the intricate, textured arrangements performed by this group. I have an original Fantasy pressing of this album from 1956, pressed on red vinyl no less. A red vinyl ten inch version of this record was reissued last year for Record Store Day.
Another essential Brubeck release was Bernstein Plays Brubeck Plays Bernstein from 1960, featuring one side of performances backed by The New York Philharmonic under the direction of Leonard Bernstein performing "Dialogues For Jazz Combo And Orchestra," which was composed by Brubeck's brother Howard, while the other side has The Quartet playing some of Bernstein's most famous Broadway compositions.
I also pulled out my trusty original pressings (on vinyl of course) of Brubeck's Brandenburg Gate: Revisited album from 1963 which features Dave's side-long orchestral title track and one of his finest melodies in the album last track "Kathy's Waltz." I also managed to spin, and can fully recommend, the Carnegie Hall double album, Time Further Out (1961), which was a musical tribute to the artist Joan Miro, Bravo Brubeck! (1967), Back Home (1979) – one of his great later recordings on the Concord label with his son, Chris, on trombone and bass, Time Changes (1964), Countdown – Time In Outer Space (1962), Jazz: Red Hot And Cool (1955), Brubeck Time (1955) and Brubeck Plays Brubeck (1956), which features one of his greatest recordings of all, "The Duke." This is just the tip of the iceberg of essential recordings in Brubeck's canon, and while I'm by no means done paying tribute to his legacy, there's plenty here to go on in case you want to investigate further.