I'm Uncle Marty, here to concede that I'm in a 12 fret program for music junkies. This is The Award Winning 3D RadioActivity number 522, and for this year's Valentine's Day Massacre, we acknowledge the most popular breakup day of the year as we review The Golden Rule, The Ten Commandments and three of The Dozen Steps where we make a searching and fearless moral account of ourselves, admit the exact nature of our wrongs to another, while continuing to take personal inventory and promptly own up to it when we are wrong. In other words, on this episode, we going to let the tunes apologize as we say "I'm Sorry".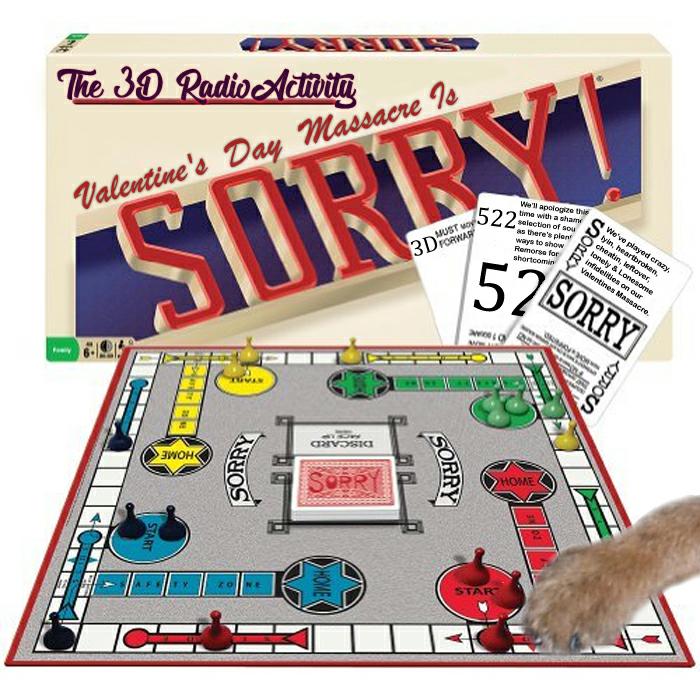 Download here:
https://archive.org/download/The3dRadioactivity/3dradio_20200216-SorryItsThe3DValentinesMassacre.mp3
or click to play
Thanks for joining us as we embark on our 12th year of this little radio hobby, where we find a featured theme and run with it, as we rarely repeat a song we have played before. No apologies needed for keeping it real, so that makes me happily sorry at the same time this week. Next up is traditional Fat Tuesday fun as Uncle Marty Gras puts cajun, creole and Crescent City music on the menu. I'm always looking for new ideas that we haven't subjected to the 3rd Dimension of depth, so if you have any suggestions, then tell me by sending a message on our Facebook page which has links to the archives of all the earlier episodes and graphics in the photo section, or via email. Tell all your circle of best friends and family to look for us on Theacidflashback.com, Long Island, New York's http://www.villageconnectionmagazine.com/;MileHiRadio in Denver; TuneIn and InternetFM dot com, because the best FM radio is now on the Internet.
Until we meet again, Always Rock On!
"It's not true I had nothing on, I had the radio on."
…Marilyn Monroe