See this article in full on SethSaith.com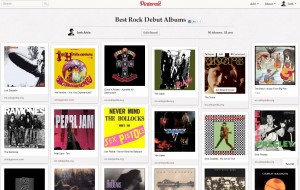 In inducting Guns 'n' Roses into the Rock and Roll Hall of Fame, Billie Joe Armstrong of Green Day called GNR's Appetite for Destruction the best debut album ever. I don't think this is way off base, but there are plenty of other contenders.
I've posted 52 of the Best Rock Debut Albums to a board I created on Pinterest and also ranked my 10 favorites in a post on Seth Saith. Click here to see the article, through which you can access the Pinterest board as shown at right.
And please weigh in with any great rocking debuts I've failed to cite.