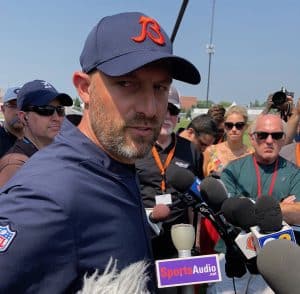 with Packer Dave, Steve Leventhal, and John Poulter
On the August 2018 Sports Report, our special guest, Chicago Tribune Chicago Cubs beat writer Mark Gonzales, discusses the Northsiders' battle for control of the National League Central division. John covers the rest of major league baseball's pennant races, along with the start of the English Premier League soccer. Steve has updates from Bears training camp. Lastly, Andy Dorf and Dave talk Packers football.
Hear audio from Mike McCarthy, Matt Nagy and Bears LB Roquan Smith, and a cameo from Chris Berman.